This meal plan is pretty meaty, can be shopped at Trader Joe's (though you don't have to) and comes in under $70.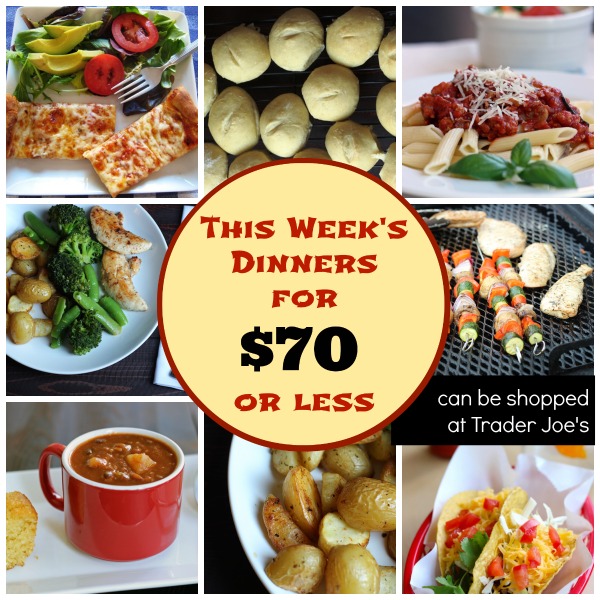 Ready to get cooking, save money, and serve your family some tasty meals? I'm here to help.
Gosh. I could go on an infomercial, couldn't I? Only that would mean you'd need to watch late night TV or something to see it. And I wouldn't want you to do that.
Instead, I want you (and me) to spend more time with people we love, reading good books, working out, or taking a nap instead of spinning our wheels — or wasting time on brainless TV. Well, it's your free time, isn't it? You spend it how you like. I still ain't going on no informercial.
One of the things that I love to do is to meal plan. It has always been a fun thing for me, ever since I was about 16, had big hair, drove this boat, and convinced my dad to give me the grocery money each week.
A few months ago, Janel and I started working on weekly meal plans that you could shop for $70 or less, that built on one another, could be prepped ahead, and bonus: were shoppable all at Trader Joe's.
You don't have to go there, but if you have a deep, burning desire for a Trader Joe's meal plan, this is it! Or this one. Or this one.
This week's plan includes quite a few meaty meals, thus it's very technical name: Pretty Meaty. As in,
pret·ty
/ˈpritē/
adverb, informal
to a moderately high degree; fairly.
"this week's meals are pretty meaty"
synonyms: quite, rather, somewhat, fairly, reasonably, comparatively, relatively
Clearly, writing up this meal plan didn't use up all my brain cells, but it's close.
Want more help in your life as mom? Get the newsletter!
Sign up for the newsletter for bonus offers, surprise giveaways, extra content, and special deals.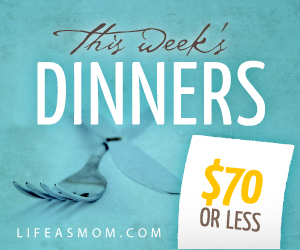 The plan is formatted as a full-color pdf. If you don't want to use the colored ink, be sure to change the setting in your print window. Alternatively, save a tree and save the pdf to your iBooks or other pdf library on your tablet or phone. Just be sure to take your device to the store with you.
Recipes in the meal plan:
Here are the recipes in the plan. See? No cookbook purchase required. 

 Most of the work is already done. You have to shop and cook. And eat. Not too hard, right?
It seems like a lot of recipes but that's because you're making everything from scratch. Plus, the spice mixes will keep. You can use them again next week.
You can download the meal plan along with the grocery lists, prep instrux, and cheat sheet here.
In addition to the 40+ meal plans already available on Life as MOM, we're now preparing meal plans with a week's worth of recipes that build on one another and that cost under $70 for the whole week of dinners.
Obviously this type of plan is a little more time-intensive to prepare than previous meal plans, so we won't be posting them on a weekly basis, at least not at the start. Any constructive feedback you can offer as we work out the bugs, is greatly appreciated. You can leave a comment here or email janel(at)lifeasmom(dot)com or jessica(at)lifeasmom(dot)com. Thanks!