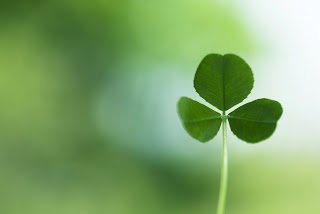 Legend has it that Patrick used the shamrock as an illustration of the Holy Trinity, One God in Three Persons: Father, Son, and Holy Spirit. Whether or not he used this plant, it's true that he spent his life sharing about the God he loved.
He was kidnapped as a boy. A boy who did not believe in God.
While in captivity, God revealed Himself to Patrick, prompting him to put his trust in Christ. Through God's provision, he escaped slavery and eventually returned to his family in Britain.
But, he could not forget the Irish people. He returned to the Emerald Isle and spent the rest of his life telling people of their need for Jesus.
And people still need Jesus. I do. And so do you.
I pray that out of his glorious riches he may strengthen you with power through his Spirit in your inner being, so that Christ may dwell in your hearts through faith. And I pray that you, being rooted and established in love, may have power, together with all the saints, to grasp how wide and long and high and deep is the love of Christ, and to know this love that surpasses knowledge—that you may be filled to the measure of all the fullness of God. — Ephesians 3:16-19