Time Flies, So Have Some Fun!
We are a participant in the Amazon Services LLC Associates Program, an affiliate advertising program designed to provide a means for us to earn fees by linking to Amazon.com and affiliated sites. We participate in other affiliate programs as well. For more details, please see our disclosure policy.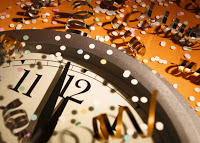 Each year I entertain visions of a fancy New Year's Eve party. You know, me and the hubby decked out in formal wear, dancing the night away while a band plays and champagne flows endlessly in a fountain nearby. But, then I wake up and realize that that kind of bash is not for my season of life. It's not because I'm "a mom", but it's just not practical with six growing mouths to feed. Not to mention that I couldn't convince my husband to don a tux and uncomfortable shoes. Or that we don't know anyone who would host such a shindig anyway. For the rest of the story, visit Simply Family Magazine.
Amy has figured out some great kid-friendly ways to ring in the new year. Visit her today to see what she says about New Year's Eve Activities for the Whole Family.
And don't forget to visit Kate tomorrow for inspiration regarding New Year's crafts and decorations!