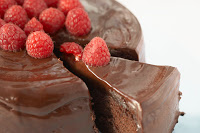 So, I mentioned the other day about an estro-fest. Basically, it's my youngest sister's in-law's name for a girl get-together. Must include lots of laughs, good food, and some sweets.
As you may know, the FishFam currently lives about 1800 miles away from the grandparents, aunties, and uncles. And since we're getting out of debt, I haven't been west in over three years! I always look forward to visits from my family, especially since they are few and far between. Next week my mom (aka Nanna) will be here and my sister (Auntie Jamie) will be arriving just a few days before Mom heads home. We'll have a little overlap which hasn't ever happened. The only thing missing is my youngest sister (Auntie Nel). Wah!
Anyway, so unless I spend the overlap in the hospital birthing a baby, I'm hoping that we can do some girly things and eat some really good food. I just read one of PW's recipes, that reminded me of my favorite artichoke dip and so I'm adding it to the list. Auntie Jamie has issues with mayonnaise, so Mom and I may have to eat it all ourselves. No problem there.
But, here's a question for you: What's your favorite chick food? What would you be making next week to enjoy with two of your favorite ChickFriends?