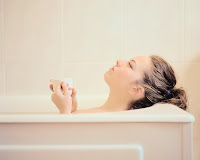 While I know a few moms who make themselves first in all things, the general MOM population that I am acquainted with tends to follow the martyr route. Mom attends to everyone else's needs before her own.
Myself included. It's not uncommon that while my peeps are watching a movie or playing video games, I'm off in a corner paying the bills or completing some "necessary" task. Yes, I want to be a part of the action with them, but other things need to happen. And since I'm not the best at time management, I often miss out on the fun stuff. It may not be the best choice in terms of interacting with my family, but, a girl's gotta do what a girl's gotta do.
This weekend my sister was visiting with her two little girls. FishPapa very graciously cared for six of the eight kids yesterday morning while Janel and I took the babies for a Moms' Morning Out. Through the course of the morning, she had the opportunity to lecture, I mean, encourage me not to do errands on my "free time" when I should just be relaxing and reenergizing for my other tasks.
This is a hard thing for me. I know that she is right. But, it is hard for me to do this.
Other things seem so pressing. And if I don't do them, what will happen? When will I find the time to run the errand, pay the bill, complete the task? It feels so selfish to indulge myself when there is STUFF to do.
But, as we talked and as I talked with my sweet hubby later, to "indulge" myself is not selfish if I am not neglecting my primary responsibilities or taking advantage of my husband. In fact, if I'm rested and relaxed, chances are I will be able to return to the STUFF with a much better disposition. So, I'm going to try NOT to do errands on Saturdays. Should be an interesting challenge.
Do you ever feel this way? How do you combat the guilt of taking time to do something just for the sheer pleasure of it? Got any secrets to balancing the have-tos with the want-tos? Share it in the comments.
And on that note, enter Jessie Leigh's giveaway for a Basket of Indulgence here. Contest ends Tuesday night.