Time for MOM: Just Enjoy Them!
We are a participant in the Amazon Services LLC Associates Program, an affiliate advertising program designed to provide a means for us to earn fees by linking to Amazon.com and affiliated sites. We participate in other affiliate programs as well. For more details, please see our disclosure policy.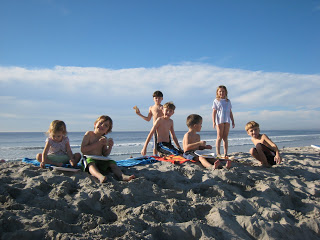 You know you've felt the pull.
Since your first child was born, you've felt that tension between playing with the baby and getting the laundry done. Between reading a story to your littles and unloading the dishwasher. Between taking a walk in the park and paying the bills.
Whether your work is mostly at home or split between home and an outside workplace, you are faced with these kinds of decisions every day. I've heard it called, "the tyranny of the urgent." The to-do list can often supercede the more important, relational aspects of our lives: our spouses and our children.
Sometimes "time for mom" is just putting aside those seemingly urgent tasks and simply enjoying the people that have made you mom in the first place.
Though I've got a ton of things that I should do, we're heading to the beach for the afternoon. My kids won't remember whether or not I got all the laundry folded on March 21st, but they may just remember our time spent walking on the beach, exploring, getting wet, and laughing.
What can you do this weekend to enjoy your family?