Time for MOM: Make a Record of It
We are a participant in the Amazon Services LLC Associates Program, an affiliate advertising program designed to provide a means for us to earn fees by linking to Amazon.com and affiliated sites. We participate in other affiliate programs as well. For more details, please see our disclosure policy.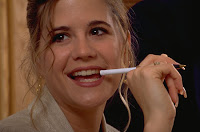 One of the things that I have found so helpful, especially after a holiday, is to take notes of the projects I try or the mels I create. I like to write down what worked and what bombed. In this way, I have a record of what things to repeat and what to pitch. You may think you will remember it a year from now, but let's face it.
Do you remember everything that happened to you last week?
Write. it. down.
So, in that vein, here are my successes and failures of the weekend:
Yeah, it worked!
** A few days before Thanksgiving I spent a couple hours preparing some meals ahead of time, including Tuesday and Wednesday nights' dinners. It was so nice to have something ready to go, especially as I was in the midst of remaking beds and scrubbing bathrooms for company. We particularly enjoyed this lasagna recipe from Wondertime Magazine. Oh my! I was contemplating entering their contest for the better lasagna, but this one's got me beat. It is an excellent make-ahead for the holidays!
** After Thanksgiving dinner, I packaged a lot of the leftovers for the freezer. We had so much food, we really could have fed you and all your kin. So, now I have an entire pumpkin pie and a whole pan of stuffing waiting to enhance another meal.
** Stocking up for holiday baking and feasting proved to be the right way to spend late October and early November. The sales seemed more sparse closer to Thanksgiving, so I was glad I had already bought a ton of stuff several weeks in advance.
** We enjoyed Party Tray Pasta Salad today. I mixed cooked pasta with Italian dressing and added chopped grape tomatoes, sliced bell pepper, snow peas and leftover bird. Sprinkle it with feta and you've got a great Leftover Makeover.
Umm…Things to Change Next Year
** I must confess my attitude was not the best at times. I overcommitted and felt stressed and crabby and threatened not to go to Thanksgiving Dinner – at least once. Need to practice a little more moderation in how I plan my time.
** And speaking of moderation, we had way too much food! Seeing how much was leftover, I think I will intentionally cook less in the future. As Ma Ingalls always says, "Enough is as good as a feast."
** Don't mess with perfection! I thought I could make a better dessert, but I thought wrong. I substituted pecans, dark chocolate and toffee bits for the regular ingredients. The result was good, but just not it.