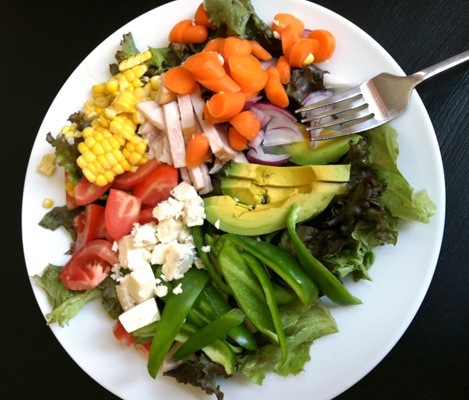 Every job needs its perks. For some it may be free tickets to a baseball game, for others it may be great healthcare insurance.
For Moms? Well, there are lots of perks – namely our children, and the privilege of escorting them from infancy to adulthood. To watch them grow and change and learn is an exciting thing. You will always be your children's mom and that is a beautiful thing.
But, sometimes, amidst the mountains of dishes, laundry, and confusion of school papers, it's hard to see that end result. Our days can get clouded with the oughtas and shouldas. And while the perks I've already mentioned are valuable and eternal, sometimes it's helpful to throw in a few more tangible and immediate fun MOM things.
For me, it's getting a break from "kid food." Sure, I'll eat cheese and crackers, chicken nuggets, PB&J, but a MOM lunch is a welcome change, particularly since the foods I love are not foods that my family would joyfully eat without a fuss. (Think quiche, creamy soups, exotic salads, funky pastas.)
Make a Mom's Meal
Consider making a MOM meal sometime this week. It doesn't need to be elaborate, just a little different than mac and cheese with hot dogs chopped in. While I love an Asiago Roast Beef sandwich and Broccoli Cheese Soup from Panera, that's my once in awhile treat.
Instead, here's my "usual":
FishMama's Favorite Lunch

2 handfuls romaine lettuce or baby greens
4-5 baby carrots
1 handful cherry or grape tomatoes
1 generous shake croutons
1/2 cup cubed cheese, such as pepper jack or cheddar OR 2 T. freshly grated parmesan
1/2 avocado, chopped (if available)
garbanzo beans
several cucumber slices
1 hard-boiled egg, chopped
cooked chicken, grilled meat, or canned tuna (or Aldi's chicken nuggets if I'm desperate)
homemade ranch or vinaigrette dressing

And don't forget,

1 Vanilla Coke over crushed ice with a straw
What's your favorite break from Kid Food?