Time for Mom: Pamper Your Feet!
We are a participant in the Amazon Services LLC Associates Program, an affiliate advertising program designed to provide a means for us to earn fees by linking to Amazon.com and affiliated sites. We participate in other affiliate programs as well. For more details, please see our disclosure policy.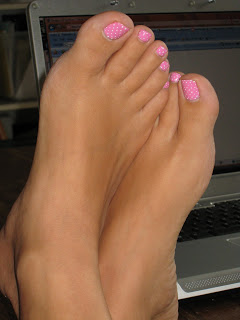 One of the things that I really enjoyed about my sister's stay in Kansas City was the pedicure she gave me. In fact, she hadn't been off the plane for more than a few hours before she had my feet in her capable hands. (Did I mention that she is a manicurist? That ranks right up there with having a mechanic or doctor in the family, don't ya think?)
Anyway, as she describes it, that day I looked like death. I had terrible nausea and hadn't eaten much more than saltines and chicken broth. And yes, there was a fair degree of anxiety in my heart over when labor would start, etc. So, what a blessing for her to pamper me with a pedicure. There's something so relaxing about having your feet massaged!
Jamie is also super creative. Not only did she take care of the basics: nails, soaking, cuticles, massage, but she also painted my toes bright pink with white polka dots, in honor of the newest FishChick.
It was great a few days later, just minutes after baby was born, to comment to the nurses, "Hey, have you seen my toes?" They were impressed. One even said, "Yes, a mechanic, a doctor, and a manicurist — that's what you train your children to be."
If you don't have a manicurist for a sister, you can still get yourself some fun feet. Check out your nearest day spa or beauty salon and ask how much for a pedicure.
Or do it yourself or with a friend. Go here for directions on how to do a pedicure at home.