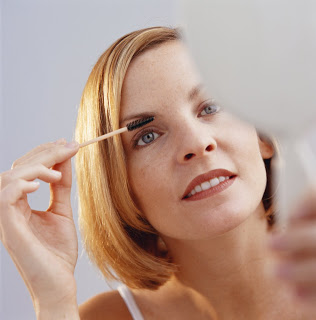 It's no cliche. Somedays, it's all I can do to get a shower and throw clean clothes on. Often, I have to hit the ground running and there isn't a whole lot of time for, whatdotheycallit? Self-care? Make-up? Stylish clothes?
Some seasons it happens. Sometimes it don't. Are you in the same boat?
I'm not talking about Paris Hilton-style primping. I am thinking about feeling good about the way you look each and every day. When there are high demands on your time and energy stores, sometimes YOU can get lost in a frumpy pair of sweats and a ponytail.
Don't get me wrong! I love sweats and ponytails. I have never been a big makeup fan. And thankfully, neither is FishPapa. It works for us. But, as I age and the crows feet multiply on my face, I'm realizing that a swipe of mascara, a brush of lipstick, earrings on and shoes on my feet — in addition to the aforementioned clean clothes — can make me feel a little bit more put together.
And feeling put together motivates me to act put together. Pajamas or sweats encourage relaxation. While I want to be relaxed as I go about my day, I don't want to be so comfortable that I lounge around and forget my responsibilities.
I love the story of the lady doing a big home management makeover who went to wake her teenage son one morning. His response? "Aww, Mom! You slept in your clothes again?" May it never be!
So, take a few extra minutes to primp this week. Get a new haircut. Check out your wardrobe to see what holes need to be filled. Buy some "free" mascara at CVS. Do what you need to do to feel "put together." And if you really want to gild the lily, check out My At-Home Spa Treatment.