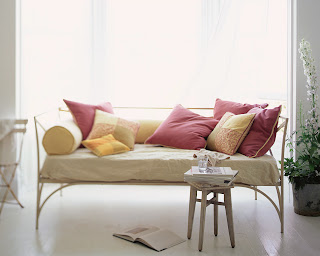 One of my doctor's orders this week was to relax. Easier said than done. For me it was good practice for the "real thing" to come in a few weeks.
But whether we're tackling childbirth or just a stressful week at home, relaxation is a good thing. We can carry tension around in our neck, tummies, back, wherever that contribute to our crabbiness and just a general lack of well-being.
I know for myself that when I feel relaxed, things don't bother me quite so much as they do when I am tense.
Relaxing certainly doesn't solve our problems, but it can help us address them in a much more coherent and rational manner.
So, what's a girl to do?
Here are some starting points which also happen to be things that I pulled out of my bag of tricks earlier this week:
take a hot bath
drink a cup of tea, coffee, or other favorite beverage
listen to soothing music
prayer and meditate on Scripture
watch Pride and Prejudice!
take a nap
enjoy a massage (thank you, FishPapa!)
What do you do that helps you to relax? Share it with us in the comments! We can all benefit from more ideas to release tension.