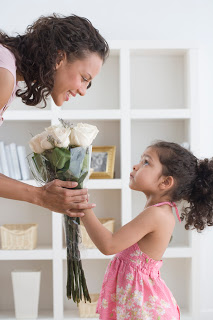 They say that it's important to stop and smell the roses. You know, pause and enjoy the beauty around you.
So often, when life gets "harry" for us MOMS, we want to escape, run, find a distraction, "just get a break." And I think there is a time and a place for that kind of thing.
But recently, as I lie awake at night replaying my day, I have been remembering the snapping remarks I have made or the impatience I have demonstrated toward one of my children. And I feel like the biggest loser.
In looking back at those moments of frustration, I realize that I have made something more important than it should be. It could be my agenda v. theirs, my desire for a neat and tidy house, my feathers being ruffled that someone might think ill of our rough and tumble lot while we're out and about. It could be any number of things that I am prizing more than my children and their hearts.
No, they are not perfect. My goodness, they each have their weaknesses, just like the rest of us. I'm not talking about worshipping my kids or putting them up on pedestals. I'm talking about enjoying the opportunity for fellowship with them that is unique while they are growing up.
As my oldest has just turned 11, and I see the teen years just around the corner, I can't believe how quickly time is passing. Our time with him is fleeting. Before I know it, the FishBaby in my womb will be getting married! And I'm going to be forty! Someday!
So, here's my question: how can we enjoy today with our kids? What do you do that helps you keep things in perspective? How do you "stop and smell the roses?"
I'm looking forward to your comments 'cause I really want to grow in this area. And I need all the help I can get.