Time for Mom: What's Your Plan?
We are a participant in the Amazon Services LLC Associates Program, an affiliate advertising program designed to provide a means for us to earn fees by linking to Amazon.com and affiliated sites. We participate in other affiliate programs as well. For more details, please see our disclosure policy.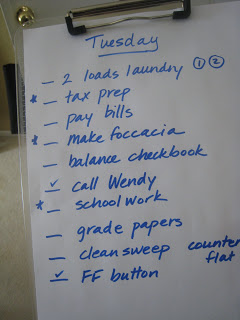 (This post is part of an ongoing discussion about how to become "a woman you can count on." You can start at the beginning or just jump in here.)
Successful time management is essential to a well-run home and a sane family life. There are plenty of books out there that address this topic. But, if we had the time to read the books, we probably wouldn't need to learn how to manage our time!
The question we're looking at today is this:
1. What's your plan? How do you plan all that you need to do?
For busy moms, having some sort of "to-do list" is essential to getting anything accomplished. Some can just keep a mental list and do very well. Others have detailed time tracking systems. I know one uber-efficient woman who has every minute accounted for. For some a planner really works. Others keep a list in their pockets. The trick is to find what works for you and use it consistently.
Simple Mom has a great Daily Docket and it's mini version as well as a helpful post on how it works for her.
This was inspirational for me as I found that my previous system was becoming cumbersome. However, I've tweaked it a little (as pictured). I grab a sheet of paper from the recycling bin and jot down 10 things to accomplish in the day. I put stars next to the MITs, as Tsh calls them, "the Most Important Tasks." I keep my list on a clipboard so it's easy to find and easy to check things off, make notes, etc.
What do you do? How do you plan our your day and make your things to do actually happen?