Time Keeps on Slipping, Slipping
We are a participant in the Amazon Services LLC Associates Program, an affiliate advertising program designed to provide a means for us to earn fees by linking to Amazon.com and affiliated sites. We participate in other affiliate programs as well. For more details, please see our disclosure policy.
Time keeps on slipping into the future. How can we enjoy the today before it becomes yesterday?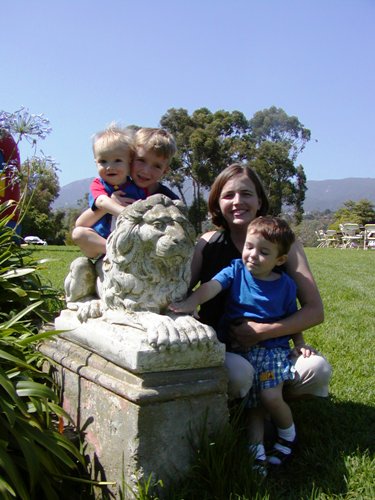 Cue the Steve Miller song….
A friend told me that on the occasion of her 14th wedding anniversary, she and her husband have been quite introspective. They're younger than we are. I told her we get quite introspective, but that's because we're old.
FishPapa is 50. I am 41. Our kids are 16, 12, 11, 9, 6, 4.
Now that my last toddler is grown and approaching kindergarten this fall, I find that I'm able to catch my breath. I was pregnant, nursing, or chasing toddlers for a long time. My tenure as a "mother of preschoolers" ends this summer. It's a little bittersweet.
For quite some time, I've felt like that little old lady in the grocery store who says, "Enjoy it while it lasts. They grow before you know it."
They'll be grown before you know it.
That picture of me and the first FishBoys was taken in 2003 when I had good skin and a thinner waist. Ten years has gone by in the blink of an eye. A blink.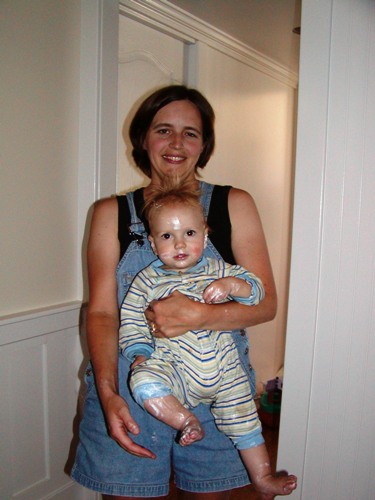 Another younger friend claims that I just don't remember how hard it is to have babies and little ones. We agreed that maybe I have amnesia.
At least I think I agreed.
I admit; I am not sure if that baby is covered in lotion, yogurt, or sour cream. Without the picture, I kind of forget about those moments.
Today has me so consumed with tomorrow's worries, that I forget. And I'm sure it's been like that for at least ten years. I'm so busy thinking about what I need to do for tomorrow or even tonight, that I don't really remember the struggles or problems of before.
To be honest, the pictures sometimes make me cry because I know that I wasn't enjoying it.
I know that there were years that were an absolute whirlwind of activity: busy toddlers getting into all kinds of messes, diapers to change, and children to help, scold, cajole, and cuddle. Those years were also peppered with miscarriages, cross-country moves, friends who weren't really friends, a parent dying of cancer, bad investments, and debt.
Was it parenthood that made Life so hard? Or just Life?
I do know that time keeps passing. When my husband turns 65, our "baby" will be 20 years old. There's no stopping that from happening. In fact, hubs has often commented that he's already "nostalgic for today". We know how quickly today will be ten years ago.
We talked about it at date night this week. He said, "So, what are the important things that we don't want to miss?" We discussed plans for the next few years, regular activities we want to work into the week, ways we want to spend time as a family.
Now that I think about though, a better question, at least for me is this:
How can I enjoy today before it becomes yesterday?
Got any tricks? I'd love to hear them.