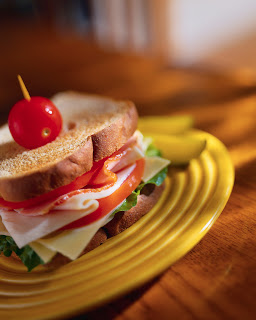 I'm guessing that for most families whose kids attend traditional schools making lunch the night before is a pretty common practice. Since my children "do school" at home, it might not seem all that necessary. We're home most of the day, so why do we need to do that?
But, oh what a help it is to my day if I've already prepped lunch! Cooking can take such a big bite out of the day, especially when I'm preparing three home-cooked meals. I need to be able to focus on math, spelling, reading, and caring for the little ones, not figuring out what there is to eat.
One thing that really helps my day go smoothly is to make everyone's lunch the night before. FishPapa usually takes a lunch to work, and since he leaves before the sun is up, it's always easier to make it before I go to bed. I line everything up on the top shelf of the fridge: drink, 2 fruits, a sandwich, a side salad, and an energy bar.
Since I'm a big salad fiend, I often put a plate aside from the night's dinner, prior to dressing it. To make it more filling, I often add some chicken or tuna, hard boiled egg, or garbanzo beans.
The kids are happy with sandwiches or cheese and crackers along with fruit and veggies. So, when I prep all that at night, that takes a load off my mind during a busy school day.
What do you do to make your day go more smoothly for meal times?
Related:
** For more kitchen tips, visit Tammy's Recipes every Tuesday.
** Come back to Life as MOM on Thursday for a Lunch Box themed Recipe Swap. Share what you like to pack.