Time to Get on Zone Defense! (Again)
We are a participant in the Amazon Services LLC Associates Program, an affiliate advertising program designed to provide a means for us to earn fees by linking to Amazon.com and affiliated sites. We participate in other affiliate programs as well. For more details, please see our disclosure policy.
Time to get back on Zone Defense, battling clutter and reorganizing your home for the way you live.
Last year we worked through the zones of our homes working to combat clutter and get better organized. But, if you are anything like me, if your house is anything like mine, well, it's time to start all over again.
The natural drift of things is toward chaos. My zones are that. Time to get cracking.
Like last year, I'll be moving through the different areas of life, setting things to rights. The game plan is here.
I'll be posting my progress once a month and hope you'll jump in as well. Since we've already been through this once before, I'm going to lump the first two months' assignments into one.
The first assignment is a prep time, finding out where your strengths are, getting equipment ready, thinking about how to approach reorganizing. Don't overthink it. Work through those first few posts and then move on to your personal space.
1. The Playing Field

2. Your Personal Space
This month, I'm getting a jump on my personal space. First up: my closet.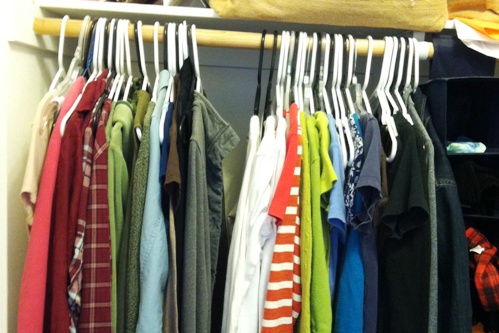 My friend Rena came over yesterday to be a voice of reason over my clothes. I'm really excited about the progress we made. I have two huge stacks of clothes to give away, things that I rarely wear, but that make me feel guilty that I don't.
And now, I can go shopping to fill in the gaps!
I'll be letting you know how it goes through the rest of my "personal space" in a few weeks.
In the meantime, get moving. Tackle these problem areas, so that you can enjoy your home and your life more!
Are you ready to get on Zone Defense?