Time to Reset Your Household Notebook!
We are a participant in the Amazon Services LLC Associates Program, an affiliate advertising program designed to provide a means for us to earn fees by linking to Amazon.com and affiliated sites. We participate in other affiliate programs as well. For more details, please see our disclosure policy.
The new school year is a fresh start for our kids and for us. Time to get organized!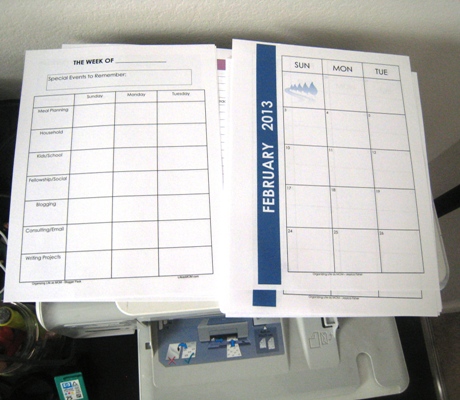 Fall signifies a new beginning, a fresh start, and in many ways, a new year. At least for us moms.
For 36 years now I've been going back to school each fall. First it was as a preschooler, now it's to teach my own preschooler. I love the routine that the new school year brings, especially after a lackadaisical summer.
Now it's time to get my game on!
This year we're gearing up for a new wave of outside activities. We've only dabbled in these things in years previously. Now, I think we're "all in". My week is going to include:
three hockey practices
three hockey games
one piano lesson
two swim lessons (for five kids)
two science classes
I feel like I'm going to be living in the car. Thank goodness we do school at home. I don't know that I'd ever be OUT of the car!
As such, it's all that more important that I keep track of things and get tooled up for the new year. For me, a new year means a new household planner.
You've heard me wax eloquently (ahem) about household notebooks before. If you bought Organizing Life as MOM, then you already know what I'm talking about.
Can't watch the video where you are? The transcript is here.
Last year I showed you how I put my notebook together. This weekend I spent time printing off new calendars and planning sheets to get my planner tooled up for the new year.
I chose to print some pages in color, some in black and white, and some in pink! because the printer was running low on ink. I also laminated a few pages that I know I will use weekly or daily so I don't waste paper.
I'm taking a different tact this year and using a three-ring binder. Readers gave me the head's up last year about this Hybrid Notebinder from Five Star. It comes in five colors, is available on Amazon Prime (or Target) and looks like it could be a very happy marriage between the spiral notebook and the three-ring binder. I will let you know how it works for me.
(And, yes, I'll be giving you a tour of my notebook next week.)
Updated Ebooks Now Available
I've spent the last week or two behind the scenes updating Organizing Life as MOM. My assistant/right hand has been hard at work creating a half-size version. We've got so many options now to help you keep track of the days and avoid the daze that comes with "life as MOM".
Whew! Talk about choices!
If you're not sure what you want, feel free to send me an email and I'll help you.
Please remember that these are digital documents. You will receive an email with download instructions. The mailman will NOT be bringing you anything from me.
If you do not receive your download instructions within an hour of purchase, check your spam. If you don't find it there, email me at jessica at lifeasmom dot com.