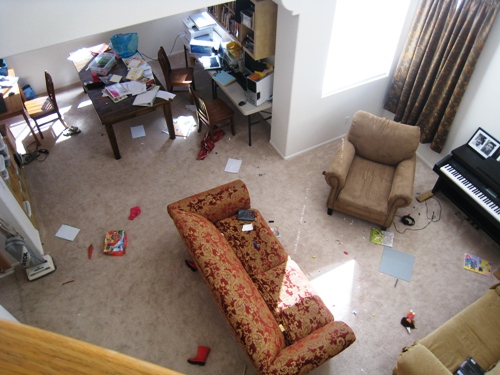 Since I teach my kids at home, our house is where we "live." It gets messier than it would if most of us were gone all day. It wears more of a "lived in" look than many other homes. This is where we do life.
It's also where we go through huge amounts of papers and books. Couple that with a home office and the regular ins and outs of life and paper clutter, and we are rich in paper.
If you've read The Little House books, you know that Laura and Mary were pretty conservative with their paper, writing on all sides and in all directions. Paper was precious. I, on the other hand, have reams of paper filter through my home every year.
Homeschools and home offices can through a lot of paper. A lot of paper. Some of it is quite necessary. But there are ways to reduce paper clutter as well as be good stewards of the resources God has blessed us with.
Not only can it be a means of good stewardship, but a "greener homeschool and office" has the potential to be a tidier one.
Here are a few ways that we can "go greener" in our homes, homeschools, and offices:

Reduce
Use a white board and dry erase markers, overhead projector, or computer screen to display messages, meal plans, and lessons.
Use plastic overlays in activity and workbooks instead of buying more.
Use digital means of record keeping and lesson planning instead of using paper.
Laminate posters, charts, checklists, and worksheets that can be reused instead of making more copies or buying new each year.
Read books on an electronic reader.
Check out books from the library.
Choose digital curriculum where appropriate. We like Teaching Textbooks that is self-grading and paperless.

Reuse
Choose curriculum that is designed to be reusable.
Photocopy on both sides of the paper.
Do work on both sides of the paper. I keep a bin next to the computer for papers that can still be used on one side as "scratch" paper.
Buy supplies that are made from recycled materials.
Recycle
Recycle exhausted papers and workbooks.
Donate old textbooks instead of throwing them away.

Win Eco-Friendly Products from Scotch
This year marks the 50th anniversary of Scotch Magic Tape. And in honor of the occasion, Scotch has released a new version of their transparent tape. Some characteristics of Scotch Magic Eco-Friendly Tape:
New, first-of-its-kind Scotch Magic Eco-Friendly Tape, including the tape, dispenser and packaging is made from 75% renewable or recycled materials.
Tape is made with plant-based adhesives
Works just like the original Scotch Magic Tape, but now even more environmentally-friendly
Still photo-safe and can be written on with pen, pencil or marker
This week three LifeasMOM readers will each win an eco-friendly desk kit courtesy of Scotch Magic Eco-Friendly Tape.
This giveaway is open until Sunday, May 1st at 8 pm, PST. The winners will be chosen randomly and notified via email. They will have 48 hours to respond in order to claim the prize.
THIS GIVEAWAY IS NOW CLOSED.
This is part of the Going Green series. Join us all week for daily giveaways and inspiration for small ways to go green.
Disclosure: I received sample product as well as compensation for my time spent writing and administering this giveaway. My opinions are my own.