Ground Beef is one of the most versatile of proteins. It can be browned and seasoned to stretch stews and chilis. It can be seasoned and formed into meatballs, hamburgers, and meatloaf. It can be the basis of tacos, pasta sauces, and casseroles.
Buying Ground Beef
Usually I try to buy ground beef for around $2 a pound or less. Sometimes I luck out and find great quality, organic beef for that same price. Yes, that was a beautiful day. Lately, however, I've had a hard time finding it for less than $3 a pound, but I'm hoping that things will change.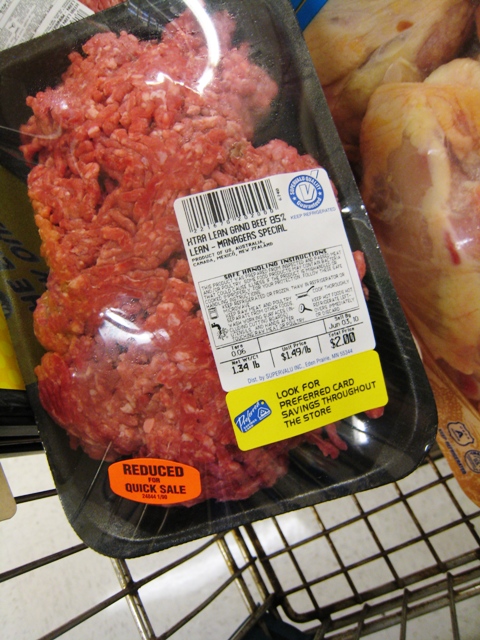 Some tips to consider when buying ground beef, learned from local butchers:
As a general rule of thumb, buy the ground meat that the store has ground. While the plastic-wrapped chubs are convenient and often lower priced, my butcher told me he would never buy them. Their contents, said he, are more questionable than store ground.
Some stores will grind meat fresh for you! My sister often has her local butcher grind the on-sale chuck roast into ground beef.
Sell-by date is not the same as the use-by date. You generally have a couple days after the sell-by date to use up the meat, making marked-down meat a great bargain. Just don't wait! Cook it up or freeze it as soon as you get home.
Freezing Ground Beef
Ground beef is at the heart of many of my freezer meals. I often do one of the following things:
Cook a bulk amount and season it for a variety of uses, including tacos, pasta sauces, and casseroles.
Form it into meatloaf or hamburgers and freeze the meat uncooked.
Bake a huge batch of meatballs to add to a variety of dishes.
In this way, I always have a quick meal component to lean on. I can cook most of these things from frozen, helping me immensely when I forget to thaw something in time for dinner. I can just grab a jar of sauce for pasta and we're good to go.

Favorite Recipes
Here are some of our family's favorite recipes using ground beef:
Where's the Beef at YOUR house?
Link up your favorite beef recipe or tell us about it in the comments. It does not need to be ground beef. It can be any cut.