If you've got kids going back and forth to school this year, chances are you've got a fair amount of "stuff" to manage, including the little bits and pieces that come home in the backpack. Troubleshoot your kids' backpack clutter with these ideas provided by Life as MOM contributor, Jessie Leigh.
Oh, about a year and a half ago now, we talked about ways to manage that mountain of paperwork that goes along with school. It can be overwhelming, to be sure, and it's easy to get in over your head. Still, it is fairly predictable and most parents understand going into the year that there will be lots of pieces of paper coming home from the school.
What you might not anticipate are all the other little clutter-y doo-dads that make their way home in your children's backpacks. It's not just worksheets, artwork, and school correspondance that threatens to overtake your home… there are other treasures that seem to multiply from week-to-week, too!
Here are some suggestions for how to manage the seemingly inevitable pieces of junk, er, I mean treasures that come home with our beloved children.
Stickers
Oh, the stickers! I never thought stickers would bother me at all. Truth be told, they're one of my favorite tricks for entertaining tiny ones during church.
I'm really not "anti-sticker." What I am, however, is anti-"stickers going through the laundry." Because that? Makes a big ol' mess.
If you are super observant about laundry or have very responsible children who can be trusted to remove all stickers from clothing, you should be all good. For the rest of us, here are two tricks for preventing the sticker laundry disasters:
Coach your children to only put stickers on their skin. This might not work for those with really sensitive or delicate skin but, for many, slapping the sticker on the back of a hand helps ensure it gets removed within an appropriate time frame and doesn't ruin anything.
Purchase a cheap small notebook for your child. Have him keep it in his backpack and, any time he earns a sticker in school, it can get added to the book. Not only does this avoid any adhesive nightmares, it also lets the sentimental child hold on to the memories.
(If you happen to have stickers go through the laundry despite your vigilant efforts, a little bit of goo-gone should do the trick for getting rid of the residue.)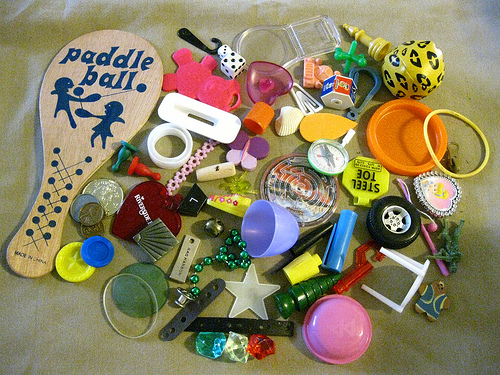 Cheap toys
You know all those cheap-y little things that kids get from doctors' offices or in birthday party goodie bags? Well, believe it or not, they may also get this sort of treasure at school. My children get them from therapists and sometimes from the "treasure chest" in the classroom after XXX number of days of great behavior.
Though I should perhaps be thrilled that my kiddos' behavior merits rewards, it's easy to get overwhelmed with all the plastic-y playthings. While you can always request that your children not receive such items, I have found that the following methods are the most effective and painless for dealing with it:
Set a timeline. Sometimes, I just lay it on the line like this, "You can play with it for a week or until it breaks, whichever comes first." After that, I just get rid of it. To be honest, nobody ever seems to miss it at that point.
Set a limit in amount. I've had great success with providing each child with a small pouch or container and saying, "You can keep your five favorite little prizes in there." They know that if they have more than five, they have to pare down. That works well, too.
Finally, my very favorite way of coping is a combination of one of the above PLUS the following: I like to check in the teachers and therapists to see if they might be able to re-use these little prizes, provided they're not broken in any way. After the time or number limit has been reached in our home, I gather and save the little toys to give back to someone who can use them. This is a win-win.
Treasures from friends
One of the sweetest things that my kids cart home would be the little notes and drawings their friends give to them. These little scraps and scrawls are precious to them, and I understand that. It can be hard to let go! Still, these things can become clutter if not reined in.
My school-aged son and daughter each have a special place– a small bulletin board and the side of a bookshelf, respectively– where they can tack or tape these treasured bit of correspondence. When the space is full? They have to cull out what really matters. Is that hard? Sometimes. But it's also a good lesson.
There's no doubt about it. While there are lots of fun and interesting things that come home in our children's backpacks, the clutter can spiral out of control if we don't have specific plans in place to cope with it. Still, with a few tricks up your sleeve, you can keep can keep it all in check without causing any tears to be shed.
What are your best tricks for reining in the clutter?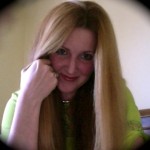 — A mother of three, including a 24 week preemie, JessieLeigh is a determined advocate for even the tiniest of babies. She can be found celebrating life's (sometimes unexpected) miracles and blessings at Parenting Miracles.