To Be More Joyful: Get Out of the Kitchen
As an Amazon Associate I earn from qualifying purchases. For more details, please see our disclosure policy.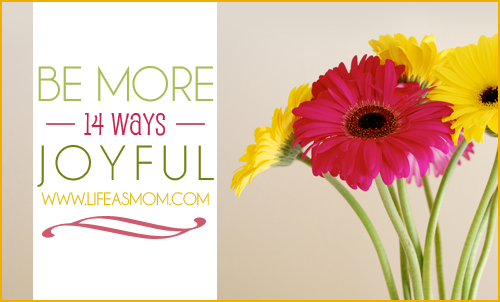 Years ago I experienced an incredibly busy day at the end of which I had a major epiphany. I found a way that helped me be more joyful than I had previously been.
My to-do list had been bigger than huge, trying to get four kids packed and off to friends' houses so that I could catch a plane and meet my husband at a conference halfway across the country. My dad was on board to help me and to get us all out the door.
It was one of those "Do-I-really-think-I-can-pack-five-bags-and-clean-the-house-before-I-go?" kind of days. Did I mention that I was also 7  months pregnant with FishChick? And it was August with temps above 105+ in Kansas City humidity?
Yes, the cards were certainly stacked against me.
But, in the end I got it all done. The house was spotless when we left. I had even mopped the floors. And my kids and my father still liked me at the end of the day.
Proof positive! Yes, I'm a dork. I took a picture. It was a momentous occasion.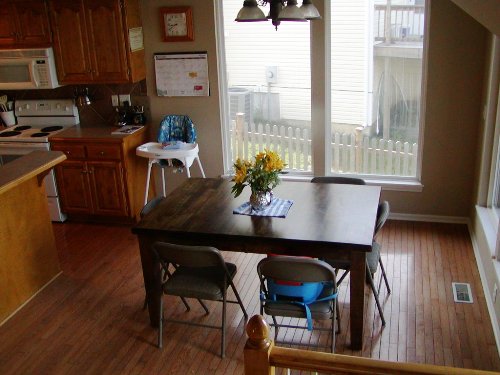 Now, before you go bestowing a Wonder Woman badge on me, let me tell you that I had never accomplished this feat before and I've never accomplished this since. The secret?
I didn't cook. All. day. long.
It sounds awful, but we ate take out for every meal. My dad bought donuts for breakfast, McDonald's for lunch, and Subway for dinner. I was able to get so much done because I was not stopping every 4 hours to fix a meal and then clean it all up.
And because I wasn't killing myself over my to-do list, I had a beautiful day. My family still liked me at the end of it. And I felt happier and more content.

Get Out of the Kitchen!
While I don't recommend subsisting on fast food all day every day in order to be a happier mom. I do think that a break from the kitchen is in order. It's not impossible; consider the following:
Plan your meals this week. Begin creating a regular meal plan so that you know each night what your dinner choices are. Having a plan should help you get in and out in a more timely manner.
Reorganize your kitchen. Years ago I read the book Escape from the Kitchen by Deniece Schofield. It's out of print, but I found it to be immensely helpful in decluttering and reorganizing my kitchen. There are probably comparable books available or your library might have this particular book. Regardless, find ways to help yourself move about your kitchen in a more efficient manner.
Find a night for takeout or eating out. If the budget allows, plan on at least one meal that you don't cook each week. You'll be amazed at how freeing it is. And if you plan for it, you won't feel bad spending the money. A Panda Feast is a huge joy in my life!
Serve dinner elsewhere. As the weather allows, eat dinner someplace else. A picnic at the park, in the backyard, or even on a blanket in the family room can be a nice change of place, especially if you serve the meal on disposable dishes.
Take a shortcut. There are plenty of short cuts to  dinner prep. Take the short road whenever you can.
Fill your freezer. You knew it was coming, didn't you? Aside from eating out, freezer meals are probably my very favorite way to take time away from kitchen work. Sure, you put in some work on the front end, but the rewards are huge the rest of the month.And if you're looking to get started, join me this next week! Come link up your freezer cooking plan on Friday afternoon, cook when you want, and share your successes on Monday afternoon.
What do YOU do to stay out of the kitchen?