To Be More Joyful: Take a Time Out
We are a participant in the Amazon Services LLC Associates Program, an affiliate advertising program designed to provide a means for us to earn fees by linking to Amazon.com and affiliated sites. We participate in other affiliate programs as well. For more details, please see our disclosure policy.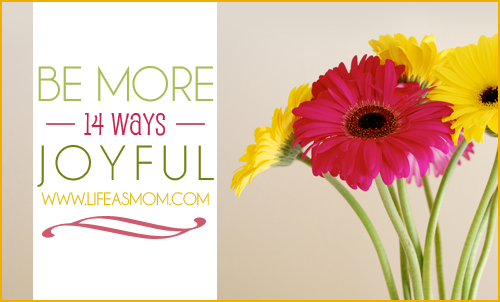 I'm on a quest to be a more joyful mom. And while I am not one who counts the days to "get away" from her children, I do appreciate a few moments that are little quieter, a little simpler, a little more restful than the go-go-go that my regular days hold.
Over the years, I've found seven ways to take a time out that help me unwind and help to reenergize me for the next thing. I've written about them extensively before, so let me point you to them once again. Choose one, two, or seven and figure out a way to start implementing them into your life.
I think you will find that second wind we all need on this road to Joyful Motherhood.
Which time out sounds most appealing to you in your current stage of life?