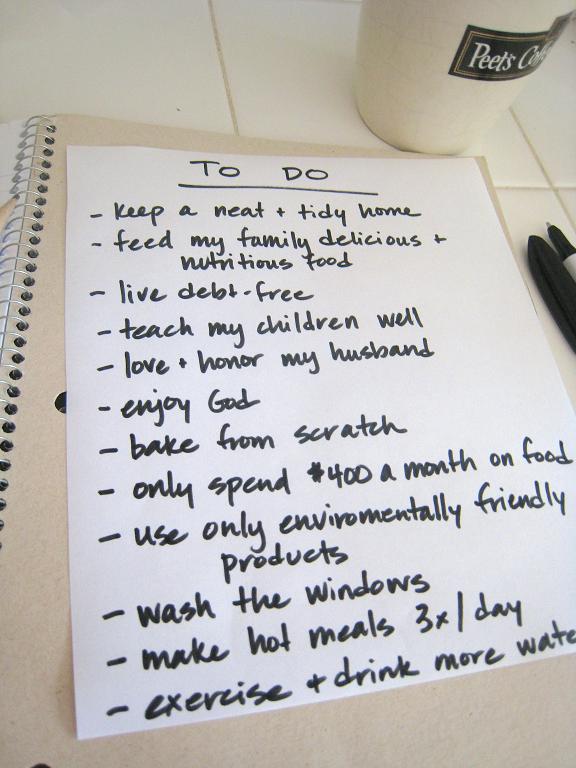 I mentioned before that successful home management is organizing your responsibilities in a way that
fits your family's needs and personalities
most blesses your family and those around you
and ultimately brings glory to God
One of the best ways to organize these responsibilities is to have a daily to-do list. For some just a simple list on a scrap piece of paper is enough. Others love their planners and are adept at using them. Some of you are able to maintain a list in your head! (But I think you are a small minority.)
However you make your to-do list, I think it's important to have one. There are so many things to do in a given day, that it's helpful to keep track of them. Free up space in your mind, so that you can move on in life. It's not life or death, but you may get buried under too many tasks if you don't have a way to get them in order.
That said, please don't become a slave to your to-do list. We can get so task-oriented that we forget to stop and hug a child, read a story to a little one, go ride bikes, throw a ball. Let your to-do list be your slave, helping you with the things that you need to accomplish.
I am a geek (in case you hadn't figured that out) and have my to-do list in my computer. I don't want to recreate the wheel every day. Every Monday is pretty much like other Mondays, so I have a list for Mondays. I have a list for Tuesdays, etc. If you really want confirmation of the nerd that I am and you need a good laugh, OR you want fabulous inspiration for creating a list of your own, you can check out mine here.