To Enjoy My Life More
We are a participant in the Amazon Services LLC Associates Program, an affiliate advertising program designed to provide a means for us to earn fees by linking to Amazon.com and affiliated sites. We participate in other affiliate programs as well. For more details, please see our disclosure policy.
Life is hard, especially "life as Mom." But, there are things we can do to enjoy our lives more.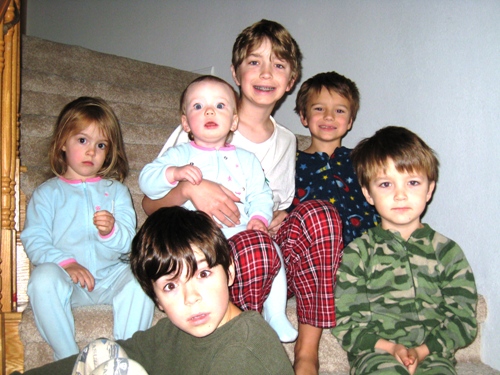 I randomly stumbled across this picture yesterday. It's from 2009, one of the earliest and "best" photos of all six kids together. Which is saying SOMETHING. Some obviously have that deer in the headlights look about them; some are smiling; some aren't.
It's kind of a snapshot of life: there are good moments and bad, ups and downs.
Life is the proverbial rollercoaster.
And as such I want to enjoy it more. I know that I can't ward away evil, bad hairdays, grumpy kids, dead car batteries, or the episode with a child that makes my head spin around and smoke come out my ears.
(Yes, we all have those moments.)
I love what Meagan said last week:
we do have a choice: to elevate the snuggles and the laughs above the vomit and bickering and spilled milk. To set up our lives in such a way that we're more rested, more ready, more able to cope with it all. To forgive ourselves when we screw up and move past the unrealistic expectations that make those moments of "failure" feel so much more awful to begin with.

Untainted, all-day-long blissful happiness is impossible for anyone, but we aren't victims of circumstance: we really can choose to be happier moms.
She's a girl after my own heart. I get it that things are hard. Believe me, I do know. (More on that tomorrow.)
But, now that I physically look UP to my son to talk to him and see the 'stash sprouting on his upper lip, I am so sobered by the passing of time. I want to drink this cup dry. I want to enjoy my life more. I want to BE more joyful.
Call me Pollyanna. I'm okay with it. 😉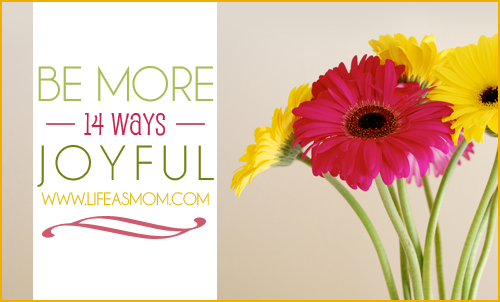 A few years ago I put together a series of 14 Ways to Be More Joyful. It's not rocket science. The secrets to life aren't there. I don't profess a superior mind or an excess of whatever that happiness hormone is. I'm still working on my attitude as a mom. Believe me when I say that as we enter each new stage of parenting — and every stage is different with each kid that enters it — I shake in my boots with the weight of it all.
But, writing this series of devotions was so helpful to me. Rereading it, even moreso. If you missed the posts, you can check them out here:
Do YOU have a technique that helps you enjoy life more?