If you've been to Walmart or Target since the Fourth of July, you've probably had ample time to review the mass amounts of back to school items that are now available. Those marketers, they know how to get us thinking ahead of schedule, don't they?
Since the days this month and into next signify a reentry to schooling, I thought it would be great if we could share our "must-haves" for back to school.
For our family something that we use all the time is our library card. In fact, I just checked; we have 100 checkouts to our name right now. Yikes!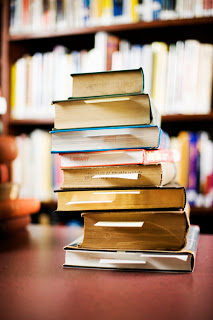 Our library system is absolutely amazing — year round. Not only do we have access to all the public libraries within our county, but we can also request items on "interlibrary loan" — for FREE! We have saved so much money using the ILL system. If a book interests us, FishPapa or I will request it from someplace else in the country, rather than shell out the cash to buy something we may or may not like.
As a teacher, I find my library card to be invaluable. I spend very little on our homeschool curriculum because most of the books we read, I borrow for free.
Thank God for the library!
What's your "must-have" back to school item? Please share it with us, 'cause we may be missing out on a cool trick! Here's what to do:
1) Write a post about it on your blog, mention this post so that your readers can share in the wealth over here, and then come back here and share your link!
OR
2) Share your idea in the comments section!