Years ago when the first bread machine hit the market, I remember folks buying them and then complaining that it really didn't do all that they expected. The result was that it sat on a dusty shelf somewhere and was neglected. Sounds a lot like the crockpot, doesn't it?
But I wanted one anyway. So, about seven years ago FishPapa gave me one for Christmas — with diamond earrings hidden inside! How's that for one cool dude?
However, I was so disappointed when the first few loaves of bread were total flops. I'm kind of a perfectionist, in case you hadn't noticed. It's a first child thing. So, I was really disturbed that my bread machine would join the scores of bread machines relegated to dusty shelves.
I shifted into Bulldog-I-will-not-give-up mode and headed to a bookstore. After perusing every bread machine book on the shelf, I made the best cookbook purchase I think I've ever made: The Bread Lover's Bread Machine Cookbook by Beth Hensperger. This book is fantastic! It saved my bread machine from a dastardly fate. And it has provided our family with some of the best bread, rolls, and pizza. Not only does it contain great bread recipes, but it also explains the process of bread making, the ins and outs of how different machines work, and the factors of ingredients that lead to successful bread baking. I highly recommend it.
Now, last week I mentioned that my bread machine died last summer. So why am I featuring it today on Toolin' Up Tuesday? My dad bought me new one Friday morning!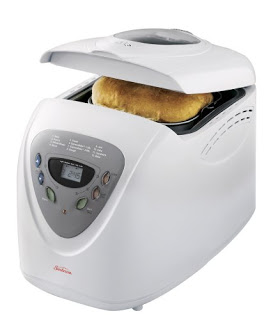 So now I'm back in the bread baking business. Oh happy day! This is a very similar model to the one I had before. It only busted because I used it SO much – at least 3 times a week for six years. It more than paid for itself. If you can't swing a new model, you are bound to find a wealth of dusty, almost new machines at a garage sale or thrift store. Keep your eyes open. This is worth it.
What helps you do your job as MOM better? It doesn't have to be a kitchen gadget. (I tend to think with my stomach, you know.) It can be any "tool" that you use to simplify or speed things up in your life. Post it on your blog and then come back here and share it with us. If you don't have a blog, feel free to post it in the comments.
(Last week some people had problems with their links. Never fear! It took me awhile to figure out how Mr. Linky worked. If you are posting a link to your blog, copy and paste that in the line that says URL. If you aren't posting a link, just click on "comments" farther down on this post.)