At the Fish House, tools are defined as anything that helps you do your job better. Early in our marriage, FishPapa asserted this fact. As a contractor's wife, I needed to understand the benefit that quality tools would make toward our livelihood — in both dollars and sense.
(No, this was not clever manuevering on my husband's part to buy as many saws as he wanted. He is very careful with his tools and that care ensures that his equipment lasts a long time. But I digress….)
Anyway, he was also clear that my job as a school teacher necessitated certain tools. He insisted that we allow a large clothing allowance in my "tool budget." Today, though I don't need lots of fancy clothes, he is always encouraging about making sure I have what I need to make my job easier. As our budget allows, we invest in "tools" that will benefit our family.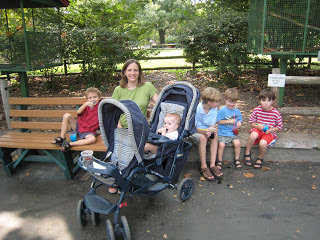 One of the items that we added several years ago was a double stroller. We were transitioning from "man on man defence" (2 kids) to "zone defence" (3 kids). I had thought that I could get by making my toddler walk while the baby rode in the single stroller.
Au contraire!
About two weeks of schlepping one kid in one arm and trying to push the other in the stroller, while keeping an eye on my 5 year old convinced me of our desperate need for a double stroller. Now, six years later, we continue to put this baby to great use. It is well worth all the pennies we spent on it. So, if you've got a couple little ones, I highly recommend scouring garage sales, thrift stores, Craigslist, or Amazon for a double stroller.
What makes your life as MOM easier? It can be anything! Share it on your blog, link to LifeasMOM, and then come back and leave the link to your specific post here in Mr. Linky so we can all benefit from your experience. If you don't have the time or the blog to write a post, share your idea in the comments section.