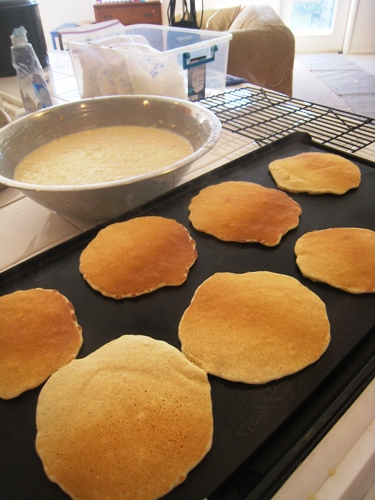 Many moons ago FishPapa began a family tradition of making Saturday pancakes. He even let our oldest, a toddler at the time, assist in preparing the batter. You can bet that my eyes bugged out when he let our 18-month old crack the eggs. Since then, pancakes have been a regular part of the weekend routine. In fact, my sweet husband is so adept at his flapjacking that he often creates what I call Pancake Art. (More on that on Friday.)
Basically I'd had about a decade off pancake duty when hubby couldn't be home some morning to make pancakes. Sure, I can do this. But, little did I know that I would have a constant line of hungry children whining for more at my side while I tried to make four at a time on our whimpy stovetop griddle pan that didn't heat evenly.
I don't think so.
The next time I was at a kitchen store, I spent my "allowance" on an electric griddle. FishPapa was a little skeptical that we would really use it. But, I just knew that if I was ever going to make pancakes again and feed the masses, I didn't want to monkey with a lack of surface area or heat regulation. In reality, he uses it more than I do.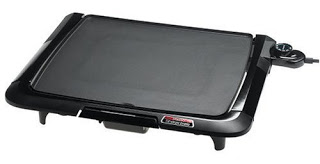 This has made pancake feasts so much easier. He makes 8 to 10 at a time and there are always hot cakes waiting for whoever wants them. But, lest you think it's only for pancakes, know that it is great for making grilled cheese sandwiches, quesadillas, tortillas, and basically anything you need a hot cooking surface for. This "tool" makes cooking for our family a lot easier.
How about you? What's a tool that makes your life easier?
1. Write about it on your blog and bring your link back here. (For specifics on how to post in Mr. Linky, go here.) Please remember to link to www.lifeasmom.com so that your readers can see other people's ideas as well.
OR
2. Share your idea in the comments section.
This post contains affiliate links. When you make a purchase through those links, I am paid a small amount in advertising fees. Thanks for your support. I really appreciate it.