Yeah, I know the jokes abound about the Crockpot. It seems that people everywhere have left theirs to languish in the cupboard. Not so at my house. In fact, I own three: 1.5 Qt, 2.5 Qt (round) and 6.5 QT (oval). There are a number of other sizes available as well, including 3.5 Qt and 5 Qt. You are bound to find one to suit your crowd.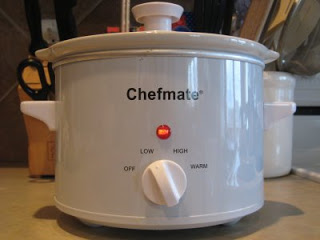 This little baby is one of my best friends forever, at least in the kitchen. It is a 1.5 Qt. slow cooker. It was about $10. I've seen them go on sale at StuffMart and other places for even less. You would think that something so cheap would not work well. Au contraire. This baby rocks!
I love it for many reasons.
There are three settings: low, high, and warm. If I have all day (or all night) then low is ideal. If I'm in a hurry, high is the choice. If it's already done cooking, but we're not ready to eat, I turn it to warm. (You probably knew that, though.)
It is the ideal size for many recipes. I learned last year that a slow-cooker needs to be 1/2 to 3/4 full to work properly. If your crockpot is too big, you may have some problems. So, thanks to my generous mother, we rounded out my crockpot collection. That is why I have three sizes and I do use them all. Strange, I know.
It cooks perfect rice! One day I wanted to make the kids potstickers for lunch, but didn't want to take a lot of time to prepare the meal. So, at around 10 am I sprayed the crock with non-stick spray, poured in 2 c. water and added 1 c. rice and a few shakes of salt. After topping it with the lid and turning it to low, I let it do its thing. By lunch we had perfect rice.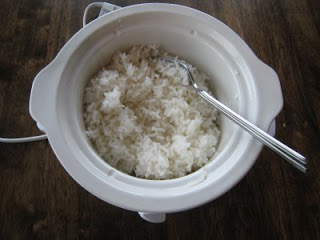 I also use this cooker to cook ground beef, to prepare meat for shredding (like beef, pork, or chicken) and to make overnight oatmeal.
But my other cookers still get a workout as well. Yesterday I made a whole chicken in my round cooker and a mess of baked potatoes in the oval. I even made the boys help me season the bird and wash and wrap the taters. Whoo hoo! Just open a caesar salad kit and we're good.
Check out these related links:
A Year of Crockpotting. This lady is using her slow cooker every day in 2008!
The USDA's [favorable] position on crockpots.
A slough of recipes at Slow and Simple, a site dedicated to crockpot cooking.
What's a cool tool that you use at your house? Write about it on your blog and then come back here and link to the post. If you don't have a blog, that's okay, just tell us about it in the comments section. And thanks for playing!