Around these parts a "tool" is defined as anything that helps you do your job well. Back when I was a teacher, my sweet husband called my clothes my "tools" and insisted on a large clothing allowance.
Yes, those were the days.
He's still generous with my clothes money, but my arsenal of tools has gone beyond the cosmetic. (You can see some of my favorite tools here.)
For the last eleven years as more and more babies have joined our family, one tool has stayed at the front of the pack: the bouncy seat.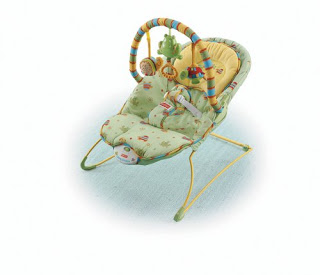 I remember when my mom brought home our first seat. It was one of the first battery-operated models to come out on the market. And though I was a first-time mom ready to be wowed by all sorts of cool baby gadgets, (I loved the baby wipes warmer, thank you very much!) I thought the vibrating feature was a little goofy.
Until the night when I could NOT get my sweet little boy to go to sleep. I was absolutely exhausted and had exhausted every trick in my book. I couldn't let him "cry it out," philosophically I'm opposed to it and physically, well, we lived in a studio and FishPapa needed to go to work in the morning. In desperation, I put him in the bouncy seat, turned it on and he was snoozing within minutes.
Then the clouds opened up, and angels burst forth singing the Hallelujah chorus. It was one of the first minor miracles of my mothering career.
To this day we still use a bouncy seat with our babies. And, as I type, FishBaby has falled asleep for the night, ready to be transferred to her crib. Yes, minor miracles still happen around here.
Not only is this one of the great go-to-bed tools at my house, it is a great assist in soothing a fussy baby. My bigger children, particularly my almost 8 year old, are adept at gently bouncing their sister when she fusses and I am otherwise occupied. The bouncy seat is a great asset to our home.
How about you? What tool makes your life easier? Share it here!
1. Write about it on your blog and bring your link back here. (For specifics on how to post in Mr. Linky, go here.) Please remember to link to www.lifeasmom.com so that your readers can see other people's ideas as well.
OR
2. Share your idea in the comments section.

This post contains affiliate links. When you make a purchase through those links, I am paid a small amount in advertising fees. Thanks for your support. I really appreciate it.