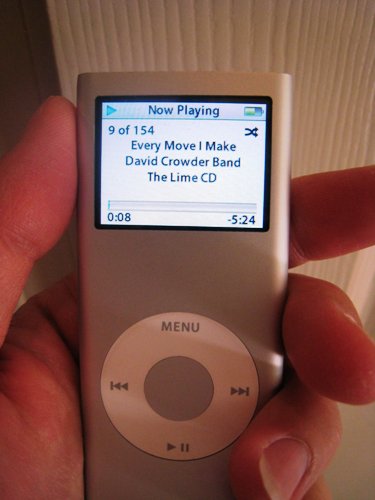 A few Christmases ago, my husband surprised me with an iPod Nano. This was a very special gift, especially as he really wanted one also. But he made sure that I got mine first. (Isn't he sweet?) Since then it has become a really valuable tool in my bag of tricks.
My particular model does not have a video screen, but that's okay. I am content with audio. I listen to it with earbuds while I clean which really helps my motivation. If my mind is occupied, my hands don't mind folding laundry. We also have a special setup (just one cable and our stereo amplifier) where we can plug in an ipod and listen through the living room speakers. This allows us lots of flexibility and no need to locate a missing CD. I have been able to play the kids' books on tapes for everyone to enjoy this way.
If you're not familiar with mp3 players, let me explain. Basically, it's a little portable computer that can hold digital music files. We have loaded our entire CD collection onto our computer and from there, using iTunes, I can load as many songs as I want onto my ipod. Then I can carry tons of "albums" around with me in my pocket. Technology is amazing!
One of the biggest ways that I've used my ipod is to listen to Dave Ramsey's free podcast. That is also downloadable through iTunes. Over the last year I've listened to the first hour of 100s of his shows and learned so much about debt, money, budgeting, and investing. (Even if you don't have debt, Dave is going to help you financially. Trust me.)
Anyway, I digress. You can also download a multitude of radio programs and other podcasts. Many of them free of charge. If you have a favorite song but can't locate the CD, you can also purchase a single song off iTunes.
What cool tool do you love at your house? It doesn't have to be a household gadget, just something that makes life a little easier for you to do your job. Post about it on your blog, mention "Toolin' Up Tuesday hosted by LifeasMOM.com," and come back here and leave your post's link (not your main site) below. If you don't have a blog, share your tool in the comment section.

I can't wait to hear what you've got in your bag of tricks!