I love this great tool that Ryann is presenting for today's edition of Toolin' Up Tuesday!
When I first read about the Wilton Dimensions® Large Cupcake Pan last fall in a Parent's magazine, I couldn't wait to get my hands on it. I knew I had to create this giant cupcake for my daughter, Addyson's, first birthday. Because she was born 15 weeks too early, all aspects of her life are a celebration. A birthday party would not be in her future, as we tried to keep all events to a minimum… the risk of spreading germs was too great. We couldn't let her first birthday come and go with out celebrating, so I knew this was the perfect opportunity to create a great moment in time.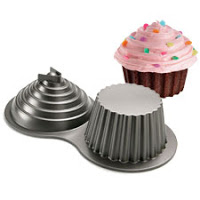 Of course, the photo doesn't do it justice. It takes about 1 ½ boxes of cake mix, and I used 2 tubs of frosting. You bake the cake in the pan as a top and a bottom, then after baking, the two pieces stack together to create the cupcake shape. The photo above is NOT the cake I made, it is the photo from the Wilton website. Of course, the cake I made was not nearly as pretty, but very cute, nonetheless. I used a Pillsbury Funfetti Cake Mix and White Frosting, which I colored purple, teal, and pink with food coloring. With the leftover cake mix, I made a dozen or so mini cupcakes to set around the giant cupcake, which made a great contrast.
Wilton also makes jumbo sprinkles seen on the above cupcake, to coordinate with the size of the cupcake.
Addyson loved her large cupcake and we hope to make it a tradition in our house. Birthdays were never a big thing growing up in my family, but with this cupcake pan, how could we make birthdays anything but BIG for Addy!
You can read more about the Wilton Dimensions® Large Cupcake Pan at the Wilton webpage. The Cupcake Pan can also be found at Sur La Table, Target, Linens 'n Things, and other retailers. I couldn't find it at my local Linens 'n Things, so I ordered it online, had it shipped to the store (free service), and then paid for it using a 20% off coupon they had in the recent newspaper. I know you can print coupons for Linens 'n Things online as well.
For more decorating ideas using the Large Cupcake Pan, follow these links to see a few that I found:
While, of course, this large cupcake pan is a tool I could live without, why would I want to? It's yummy, fun, and very cute!
Thanks to LifeAsMOM for asking me to guest host this weeks version of Toolin' Up Tuesday. Hope you all enjoyed it and want to play along. 
Join in the FUN and leave your post information in the Comments Section!
— Ryann is a 29-year old kitchen and bath designer from Indianapolis. When not busy cooking, camping, or scoring great deals, she enjoys traveling with her husband Nick and scrapbooking her preemie daughter Addyson's journey. She can be found blogging at A Little Birdie Told Me and is the host of Thirsty Thursdays.