For my birthday last year my dad went to great lengths to order me one of his favorite tools: The Magic Bullet. He had been talking this thing up for months, and I, for one, was skeptical. Never to do things by halves, he sent me a double pack: a plug-in version as well as a cordless model to take on trips. Unfortunately, he typed in his zip code, instead of mine, and it took a few extra weeks to arrive. But, when the package came, boy – rich in Magic Bullets over here!
And I am pleased to report that it has proved to be a very handy tool, indeed.
I have used it as a replacement for our old blender as I was too lazy to get a new gasket for the blender. But, since the Bullet has attachments for blenders, mixing cups, and party cups, you can do all sorts of things, one right after another. Just rinse one of the two blades before continuing on to your next item. We make our blueberry smoothies in the blender. If I'm making customized smoothies, shakes, or blizzards, I use the party cups, individual-sized cups that come with different colored rings to screw over the top. I use the mixing cups to make homemade salsa! Recipe to follow later this week.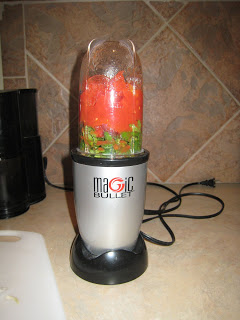 It's a very cool tool. So, if you are in the market for an all-purpose blender, I highly recommend it.
Have you got a tool that you love at your house? It doesn't have to be a household gadget, just something that makes life a little easier for you to do your job. Post about it on your blog, mention "Toolin' Up Tuesday hosted by LifeasMOM.com," and come back here and leave your post's link (not your main site) below. If you don't have a blog, share your tool in the comment section.
Let us know what helps make your job jiffier!