Could you use a Motion Sensor Light?
As an Amazon Associate I earn from qualifying purchases. For more details, please see our disclosure policy.
I have shared before that FishPapa is my Mr. Fixit. Whether it's my mood or my garbage disposal, he can handle the job, Bob. And often, he takes care of something almost before I've even asked. (Not always, he's still human — but he's a pretty reliable dude, nonetheless.)
Our home was not built all that well, and when you're a general contractor (or a general contractor's wife) that can be a little annoying. You know all too well how it's supposed to be. Needless to say, FishPapa has performed some great improvements in our home. He's repaired faulty toilets, patched crooked walls, installed coat pegs and shelves, and reformatted closets to be more efficient. He's currently building me a school room/family room and bathroom in the basement.
I'm a little spoiled, yes.
Awhile back he installed extra shelving in the pantry. The original set-up was three or four fixed shelves, spaced about 2 feet between each pair. Highly impractical. How many cans will stack 2 feet high? Too many. My new pantry shelves can be adjusted which makes for much more efficient storage.
But it had one remaining problem.
It was really dark in this closet since the overhead kitchen lights were several feet away. As I would put the groceries away, I would think, I wish there was a light in here. One day I wondered aloud, "I wonder how much a little light would cost for this pantry." And then, I went on my merry way.
Well, about a week or two later, I came home from grocery shopping and headed to the pantry to unload. And as I was thinking, I wish there was a light in here… Ta-DA! A light went on!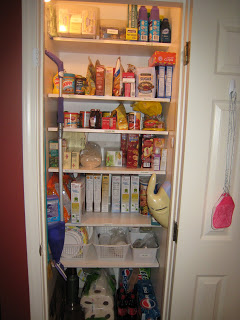 That man of mine had installed a motion-sensor light in the pantry while I was gone. The light comes on when it detects movement and switches off after 30 seconds, or so. (I've never counted.) It also has a switch to leave it off or on for good, as you prefer. It is a wonderful little tool that makes these eyes really happy.
The funny thing is that for days afterward I would go to the pantry and think, I wish there was a light in here… and Ta-DA! A light would go on! It took a couple weeks for the Pavlov's Dog effect to wear off. And now I enjoy my light in peace.
Now if you're not related to a contractor or an electrician, you can still enjoy an illuminating pantry! You can purchase a light that does the same thing, without the need of special wiring. Here's one I found that would do the job.
What cool tool makes life a little easier at your house? Write about it on your blog and come back here with the link, so we can all learn about something new and nifty. If you don't have a blog (or are just too lazy today), share your idea in the comments section.