At our house tools are things that help you do your job better. Love that definition. You could put such a spin on it. "Honey, this new chair will really make our family read aloud time so much richer. It's definitely a tool our home needs." Can you just see husbands everywhere rolling their eyes? I hope you know I'm kidding. I'm too cheap to try that kind of justification. But, I digress. I wanted to tell you about this great tool!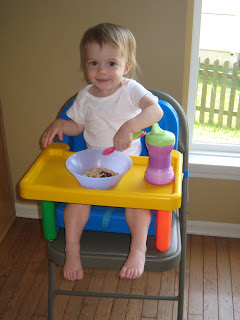 We first bought one of these portable high chairs after our second child was born. It's been great to take on picnics and to restaurants. The little guy always has a place to sit. When offered a high chair, we jokingly tell the server that we bring our own germs and take our own germs back home with us. It offers me a little piece of mind when dining out.
It's also come in handy on movie nights when everyone is snacking on treats and I want the baby's mess a little more contained. We just place it on the floor so that the child can be a part of the action.
We have several of these booster seats thanks to my mom who has picked them up at garage sales and secondhand shops. When guests arrive with young children, we just pull out the booster seats and extra chairs. With this type of booster with a tray the need for extra room at the table is eliminated. We can accomodate more people in our kitchen with these great seats.
An extra bonus is that the tray fits in the dishwasher for easy disinfecting. This is very similar to what we've used for most of our kids.
What cool tool makes life at your house a little easier? Post it on your blog and come back here to link to it. (If you don't have a blog, that's okay. We'll still be your friend. Just post your idea in the comments section of this post.)