Wondering what to wear to all the get-togethers coming up in the next couple weeks? Life as MOM contributor, Rena, offers some easy tips and must-haves: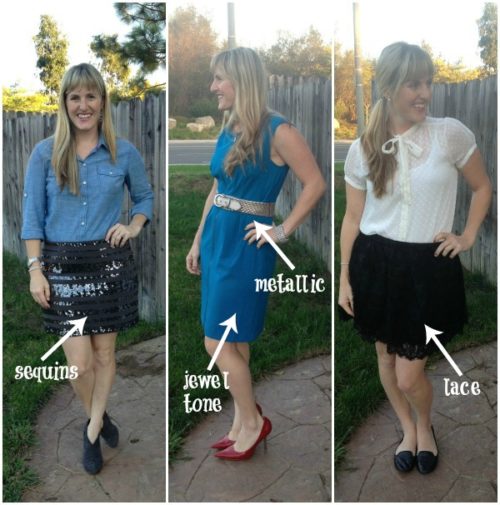 This holiday season equals joy and cheer. For most people, it also involves a lot of holiday parties and get-togethers. Finding the right outfit for these events could bring on a lot of stress.
To alleviate some of this stress, I have come up with five foolproof things to add to your outfit to help you look classy and stylish in not too much time…because no one has a lot of that going on right now either. 😉
Top 5 Things To Wear To A Holiday Event
1. Lace
-Lace is the ultimate feminine material. A lace dress with the right cut can be timeless and worn for years. It would be a great investment to make. Lace shirts or skirts are easily paired with fitted black pants or a black blouse to quickly be dressed up.
2. Velvet
Velvet is perfect for this time of year because it is a soft fabric that is extremely forgiving. Look for a nice velvet skirt, tuck in your blouse and add a belt at your waist and you are party ready.
3. Metallics
Metallics are shiny materials like gold, silver or bronze. These tones are a great alternative to white. They can be paired with ANY color and are great for all events. If you're not comfortable wearing too much metallic, consider boosting your little black dress to the next level by adding some silver bangles to your wrist.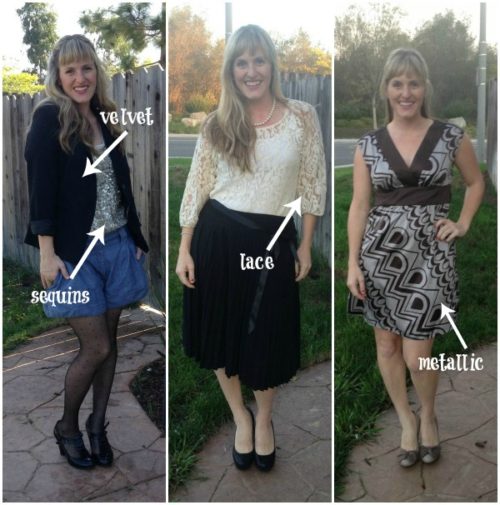 4. Sequins
Champagne and Christmas lights are sparkly, so why shouldn't you be? Sequins are so much fun and code for "party". If you don't feel comfortable going all out, find a skirt slightly hemmed with sequins to give yourself just a hint of glamour.
5. Jewel Tones
These colors are based on gems (such as emeralds, rubies, sapphires) and are saturated & intense. These tones go incredibly well with black and work wonderfully with most skin tones. I would suggest looking for a dress or top in jewel tones or just adding an accessory like earrings or a necklace for a "pop" of color.
Using just one of these things will boost your holiday party outfit or you could combine them:
A velvet skirt in a jewel tone.
A gold metallic lace dress.
Sequin top over jewel toned skinny pants.
A jewel tone dress with a lace top worn over it.
The possibilities are endless! Okay, not endless, but you get the idea. Just remember that whatever you wear, wear it with confidence!
What's YOUR go-to for holiday wear?

Rena, aka "the girl with the smile", is an optimistic style blogger in San Diego. Learning about fashion through trial & error (high school years were pretty awkward), she loves fashion and the ability to create a look and boost self-confidence through clothing. Since Rena lives with all men (husband and two sons), she needed an outlet for her fashion knowledge, so she started the blog The Girl with the Smile.