Travel During the Holidays
We are a participant in the Amazon Services LLC Associates Program, an affiliate advertising program designed to provide a means for us to earn fees by linking to Amazon.com and affiliated sites. We participate in other affiliate programs as well. For more details, please see our disclosure policy.
The following is written by Life as MOM contributor, Amy: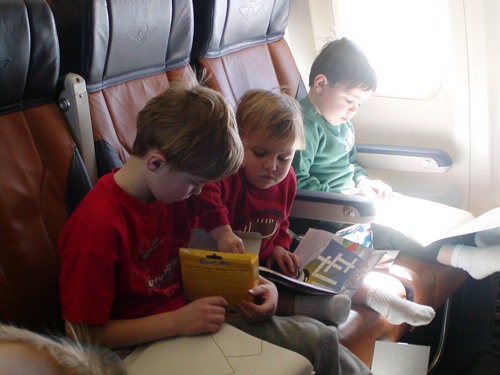 Are you flying this week to celebrate Thanksgiving? Yes, the airports will be crowded, but don't let that scare you. You can still have a great start to your trip!
Here's how:
Allow extra time.
Plan to leave for the airport much sooner than you would normally go. There will be traffic, parking will be tight and, let's face it, there will be a ton more people at the airport than there normally are.
Everyone else is traveling to spread some holiday love, too (or something like that). Continental's website lists processing times at their airports, and I would recommend getting to the airport 3 hours before your flight during this extra-busy time. Yep, that's a lot of time ahead. But wouldn't you rather have some extra time on the airplane side of security, confident you will make your flight, versus stressing out and wondering if the s-l-o-w line will move already?
Get there early and be able to relax… it is vacation, right?
Get through security with a breeze.
Have your boarding pass and identification ready as you enter the security line. Then prep your kids on what to expect. Empty everyone's pockets.
Have all your liquids (3 ounces or less each) in one quart-size zip top bag per person. Then set that bag on top of your carry-on to be checked. Laptops also need to come out of your bigger carry-on bag and be scanned themselves. And yes, everyone's shoes and jackets, even the children's, need to be removed. (Editor's note: Amy and her family just found out that children under 12 DO NOT need to remove their shoes. Yeah! Jackets and coats will still need to be removed to proceed through security.)
Have fun at the airport.
Stash an extra game or two to play while you wait. We usually play a few rounds of Uno, or when the kids were younger, we explored every aspect of the airport, walking, looking, talking. We also used to travel with a ball to roll or toss, depending on the ages of our kids.
You could also pack a picnic to eat. Just remember you cannot pack liquids to take through security, so leave soups and drinks at home. Fruit, sandwiches, veggie snacks, crackers and cookies are good to go. Toss in a light picnic blanket and really make it festive!
Bring a few extra carry-on items… just in case.
There is a lot of luggage to move through the airport in a short time during holiday travel days. This means there could be a mistake and your luggage could get delayed. If you are traveling to a cold destination, pack coats in your carry-on. Bring critical medicine onto the plane with you instead of packing it. Consider how important a change of clothes is and, of course, pack extra diapers and formula, if your baby needs it. And, if your bags do get delayed, don't be shy about asking for a complimentary toiletry kit.
Flights get delayed and people get hungry. Pack a few extra snacks to keep tummies from rumbling.
Bring your smile and good attitude.
Above all else, do your best to be the beacon of joy at the airport. Your kids (and people around you) will pick up on your good mood and be joyful, too.
Yes, lines can be daunting and no one likes to wait but, at the end of the day, you'll be on vacation with the ones you love. And doesn't that just make you smile in itself?
Bon Voyage!
What do you do to make airport time fun? Any crazy games? Favorite toys? Scavenger hunts? Tell us about your good (waiting) times here.

Amy is the Mom behind both Mom's Travel Tales and Mom's Toolbox. She is a world traveler — in heart, body, and prayer. She regularly hosts the Bible in 90 Days read-along. A mother of three young children, Amy writes to equip moms with tools for success whether at home or abroad.