Treasuring the Moments on Mom Life Today
We are a participant in the Amazon Services LLC Associates Program, an affiliate advertising program designed to provide a means for us to earn fees by linking to Amazon.com and affiliated sites. We participate in other affiliate programs as well. For more details, please see our disclosure policy.

Years ago I started listening to a radio program called, "Family Life Today." In the days before widespread internet and cell phones, it was a daily fix of helpful ideas and inspiration for my marriage and my family.
I loved listening to Dennis Rainey and Bob Lepine talk about all kinds of habits and practices that were good for families or share stories about how people vercame impossible circumstances. Eventually my radio listening was transformed to podcast.
Over the years, I have particularly enjoyed listening when Barbara Rainey was on. As a mom of six, she demonstrates motherhood in a way that makes it appealing, not stifling or conflicting with one's passions.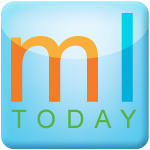 And one weird bit of trivia is that when we were struggling through miscarriage, I kept hoping we could have a large family. And I always thought of Barbara Rainey and her six. Six seemed like a magic number.
Anyway, today I have the privilege of guest posting on the Family Life blog for moms!
Pop over to Mom Life Today and check out how I'm treasuring the moments in my heart.