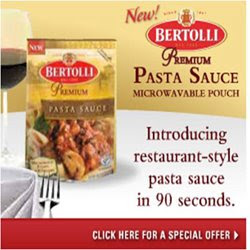 Recently, our family had the opportunity to try three new sauces from Bertolli. I must admit I was a little skeptical since we don't buy canned or jarred pasta sauces. Ever. Normally, they are too sweet for my man who doesn't like sweet sauces. If sugar or corn syrup are anywhere on the label, it gets put back on the shelf. As I've told you before we are food snobs, so food is a source of pickiness in our family.
But, we're always up for a challenge, so we gave it a go this last week and tried all three kinds of Bertolli's Premium Sauces: Crushed Tomato and Basil, Champignon and Portobello Mushroom, and Sun Ripened Tomato and Olive. Those sound froofy enough for the food snob in me, don't you think?
Well, honestly, I was pleasantly surprised.
First, I was impressed to see on the ingredient label that there was NO sugar and NO funky ingredients. I recognized everything on the label and each was a real ingredient. WOW! These sauces contain only vegetables and olive oil. No preservatives. No ingredients I can't pronounce. No added sugar. A definite +
Second, the sauce comes packaged in a very convenient, microwavable pouch. In my house where everything is subject to go crashing to the floor, this was a very nice feature. Since I am so tired, it was nice just to clip the corner and pop it into the microwave. (You can also warm the sauce on the stove.)
We also found the sauces to be very versatile. I made cheese bread for the kids one night and gave them sauce for dipping. The five children devoured two plates like the one below and slurped up the sauce that accompanied it. They loved it!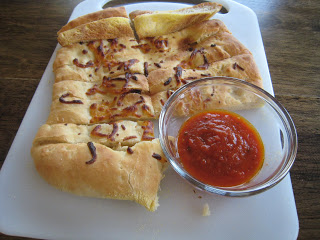 The next night I made pizzas and used the sauce with olives. It had great flavor! If I hadn't burned my pizza, (of course!) it would have been a perfect meal. Regardless, there were no leftovers.
Lastly, we sampled the mushroom sauce over pasta. I didn't tell the kids that it had mushrooms. And no one was the wiser, thank you very much. Everyone loved it, especially FishPapa. High praise, indeed.
I definitely give these sauces two thumbs up for quality and taste. My only criticism would be their price. At $2.69 per package, it wasn't what I would call a "screaming deal." But if you combine this coupon with a good sale, I say go for it! In a heart beat.
I will.
What new thing have you tried that just knocked your socks off? Tell us about it!