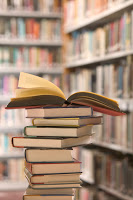 A few weeks ago, fellow mom Keely wrote me about her book buying service, CKY Books. Set up much like Cash4Books, CKY Books' website is interactive. You type in the ISBN of the book(s) you'd like to sell, and the website gives you a quoted price. They pay for you to ship them the books, and then after they receive them, they will pay you via check or Paypal.
Well, as you know, we're clearing things out in preparation to move. I had quite a few books to get rid of. In the past I've done the Ebay thing. But, being 39 weeks pregnant, I just didn't want to mess with the hassle.
Instead, I ran my list of books through Cash4Books as well as CKY Books. To my happy surprise, CKY paid, on average, 50 cents more per book than its more well-known competitor. For a dozen books, that was an extra 6 bucks in my wallet. You know who I chose!
I did have one little glitch with the computer, but a call to their toll-free number got me a prompt response; my issue was solved within 20 minutes — on a Sunday afternoon.
We mailed our little box after I came home from the hospital and I am happy to report my check was in today's mail. That was about 10 days turn-around, including the time it took for the books to get from Kansas City to Kentucky, which could have been quite some time.
I had a great experience with this service, and thought I would let you know. If you've got books to sell, check out CKY Books.