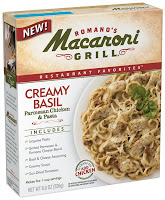 Last night we had the opportunity to try one of the new Macaroni Grill dinner kits. You've probably seen them, even if you didn't know it. They are all over the end caps of grocery store aisles these days, and their coupons are ubiquitous as well. (Check out the coupons.com scroll bar on the right for a $1.10 coupon.)
Normally, I don't buy too many dinner kits. I'm generally a make-it-from-scratch kinda girl. But, since I signed up with Psst… I received a free kit in the mail. And I'm usually willing to try anything if it's free.
The variety we sampled was the Creamy Basil Parmesan Chicken. The box stated that it made five 1-cup servings. Since some of my kids can sometimes eat like birds, I figured it was safe to serve this for dinner. But, to be certain that tummies were full, I also prepared an extra pound of pasta. Good thing, too. When I opened the box, I found packets of seasoning, "creamy sauce," sundried tomatoes, parmesan cheese, and linguini. To be honest, the amount of linguini appeared to be miniscule. (Remember I feed eight people every day.) FishPapa raised his eyebrows when he heard the five serving bit.
It took about 20 minutes to prepare this meal, just like the package said. The directions were easy to follow. It called for adding my own chicken breast, milk and butter which along with the extra pasta, cost about $3. In fact, it was a good thing to make the extra noodles because the kit made a lot of sauce. It's definitely an item you could stretch.
Most of the family enjoyed it and had second and third helpings. While the taste was good, the steps of preparation were numerous. It isn't a simple "heat and eat" kind of thing, like this one, which we loved. In fact, for the money, it might be just as easy (and maybe cheaper) to make a white sauce and stir in some pesto, sundried tomatoes, parmesan, and chicken.
But, if you don't like to cook, or don't know how to cook, this is a great starting point. It might be a good thing for an older child or novice cook to try his hand at. It was delicious and fairly easy to prepare. And if you don't know what to make one night, grabbing this box makes your answer easy. According to General Mills,
Regardless of busy schedules and an on-the-go lifestyle, Americans still find time to dine together. A recent survey commissioned by General Mills* found that more than half (55%) of those surveyed eat dinner together at home five times per week or more. However, it's not always smooth sailing for home cooks. The biggest challenges to cooking dinner? Not knowing what to prepare and lengthy preparation time.

Although consumers may not know what to cook, they do know what they're looking for in a meal; a majority (59%) of respondents agree that an interest in quality, better-for-you ingredients has dictated meal selections.
And, come to think of it, though there are several steps to preparing this, just like in scratch cooking, you don't really have to think about it. You don't need to gather a lot of ingredients, it's all right there in the box. It is an easy solution to that "What's for dinner?" quandary. Combined with a good sale on the kit (and the add-ins), this coupon might make it a viable option in your grocery budget as well.