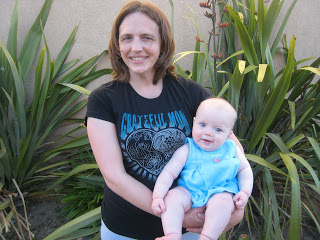 Awhile back, Peace Love Mom contacted me to ask if I would be interested in reviewing one of their shirts. I had heard about them before, even hosted a giveaway, but had never owned one. What with lots of colors and slogans, like "happy mom" and "grateful mom," – with such a cute selection, you know I said YES!
I couldn't get one in "my green" (it was unavailable in my preferred design), but I am pleased with my second choice, the Grateful Mom shirt in black, pictured.
One of the things that I'd heard about Peace Love Mom shirts was that they are really comfortable. I was a little skeptical. I mean, how comfy can a tshirt be? But, I must admit, my shirt is really comfortable. I love wearing it. The fabric is extremely soft and it fits like a glove.
That is very important. Especially that last part. The "fits like a glove" part.
You see when my shirt arrived, I promptly tried it on, only to find out they sent the wrong size. I mean, it was a little snug over this lactating chest and this eating-for-two belly. Surely, they sent me a small. And lo and behold, there was a number 4 in the tag.
See, of course, a size 4 won't fit me!
After a few emails back and forth, the company explained that the 4 wasn't the size. The size should be marked somewhere else. Hmmm….
Ah, yes, the tag is curled a little. Unroll the tag
and there's an L.
Oh.
Yes, it's a large. And this lactating chest is an L, too. Who knew?
Just so you know, the shirts are cut on the slim side. Keep that in mind when you order.
Elsewise, I think it's a fine product. It's stylish; it's comfortable; it washes well. The care instructions say to wash on delicate. Mine slipped through the regular wash a few times before I saw that, but it still looks great.
Most important, it says what I am – grateful.
In honor of Mother's Day and LifeasMOM's birthday, Peace Love Mom is offering a special coupon code. Use LIFEMOM09 when you order and you will receive free shipping on orders that are over $20 and in the Continental US. Coupon code is good for the entire month of May.
PeaceLoveMOM is also sponsoring a giveaway. For your chance to win a black "grateful mom" tshirt and a pink Happy Mom purse-sized note pad, go here.