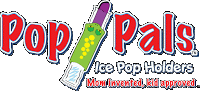 A few months ago I heard about this new product called Pop Pals. They were billed as holders for ice pops to prevent children from having cold hands. I confess I was a little skeptical about their usefulness. Cold hands has never been a problem for my children.
Drips and messes are. And trying to keep that slippery bit of half-melted ice pop near the top of the plastic tube.
The people at Pop Pals were generous enough to send me a sample of both sizes. We tried them out with our plethora of free Throat Coolers from CVS as well as with Otter Pops.
Pop Pals come in two sizes. The larger was nice for the Throat Coolers, while the Otter Pops fit the smaller size just right.
These cute, plastic holders have a slit in the bottom through which you pull the bottom of your ice pop tube. In a sense, it helps hold that slippery bit of half-melted ice pop. It was great. You can see a description here.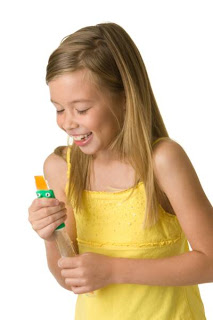 And you know what, since we were eating ice pops in winter due to sore throats, cold hands were most definitely an issue. The Pop Pals solved this problem.
This product is designed by a mom who saw a need and sought to solve it.
Mothers are the mothers of invention!