I'm always looking for fun and unique stocking stuffers for my kids. The Tickle Me Plant counts as both. This giveaway is now closed. Congrats to the winners: jandescheid@, tootyflutey@, rikievans@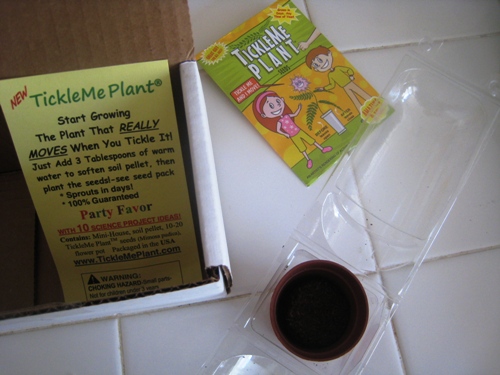 We're kind of education geeks around here. My kids floored my mom at the Thanksgiving table last week when they were discussing the history of the world and where certain plants grow.
I don't think we talked about those things at Thanksgiving dinner when I was a kid. Please pass the potatoes.
Whether your kids are factoid generators or not, they'll probably love a Tickle Me Plant. It's a plant that moves when you touch it! Crazy and fun — and perfect for a stocking.
Some factoids* about the Tickle Me Plant:
The TickleMe Plant has also been called the "Plant that plays dead", "Shy Plant", "Humble Plant", "Sleeping Grass", "Touch-Me-Not", "Noli Me Tangere" , "Sensitive Plant" and "Modest Princess."
Mimosa pudica is its scientific name.
TickleMe Plants are native to some tropical regions.
TickleMe Plants can grow beautiful pink flowers after several months (usually during the summer.)
TickleMe Plants can grow several feet tall and wide.
Scientists are not exactly sure what causes the TickleMe Plant's movements.
Seeds of the TickleMe Plant have been known to still germinate (grow) after 19 years.
Maybe you can help them discover why these movements occur!
Very cool! And what's more cool is when your child can grow one of his own. Ours hasn't quite matured, but I'm sure it will be a blast for my littler ones once it does.
Use the coupon code Holiday to take $2.00 of any purchase!
This week three Life as MOM readers will win a Tickle Me Plant, including a packet of TickleMe Plant seeds, a soil pellet, a mini flower pot, 10 experiment ideas and the packaging acts like a greenhouse.
To Enter:
Simply complete the information on this form. Please know that the information is only being gathered for the purposes of mailing you your prize in the event that you are chosen as the winner. This information will not be sold, traded, or given away.
This promotion is open until Sunday, December 2, 2012, at 8 pm PST and is limited to US residents, 18 years or older. Friends and family of Jessica Fisher and Life as MOM are ineligible for entry. Please enter only once. The winner will be chosen randomly. The prize for this promotion is provided by and shipped by Tickle Me Plant and/or its representatives. This post will be updated with the beginning of the winner's email address. Jessica Fisher and Life as MOM will not be held responsible for unclaimed or undelivered prizes.
Disclosure: I have received sample product and product information as well as compensation for time spent administering this giveaway. All opinions are my own.