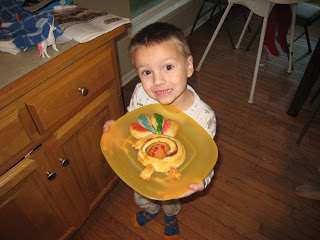 These are the result of spur-of-the-moment inspiration on Thanksgiving morning one year. Since then they've become a tradition, particularly so now that I find such great Pillsbury coupons. If you want to make your own this week, here's what you need:
Serves 5
1 can Grands biscuits
1 can Grands cinnamon rolls
colored sprinkles and candies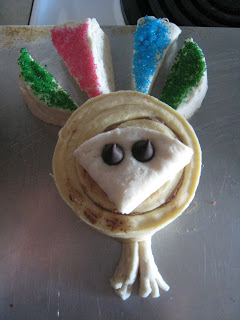 Preheat oven according to Pillsbury directions. Open the cinnamon roll tube and place four rolls on each cookie sheet. You need plenty of room to build your turkey.
Open the can of biscuits and lay them out on a work surface. Cut two of them into quarters. Place one quarter point side down on each cinnamon roll. This is the turkey's head.
Cut "feet" from the remaining three quarters. One-eighth should work.
Cut the remaining three biscuits into feathers. Dip each feather in the colored sprinkles and arrange along top of cinnamon roll. Place candies on face for eyes.
One year we used red hots which bled, resulting in crying turkeys. Kinda appropos for thanksgiving morning. But, chocolate chips or M&Ms work better.
Bake according to package directions. Serve with frosting on the side.
Make a memory.