You've heard about The Ultimate Homemaking Bundle, but is it really worth it? Here are my candid thoughts.
As a contributing author, I receive a portion of the sale when you buy through my link. Thanks for supporting my writing!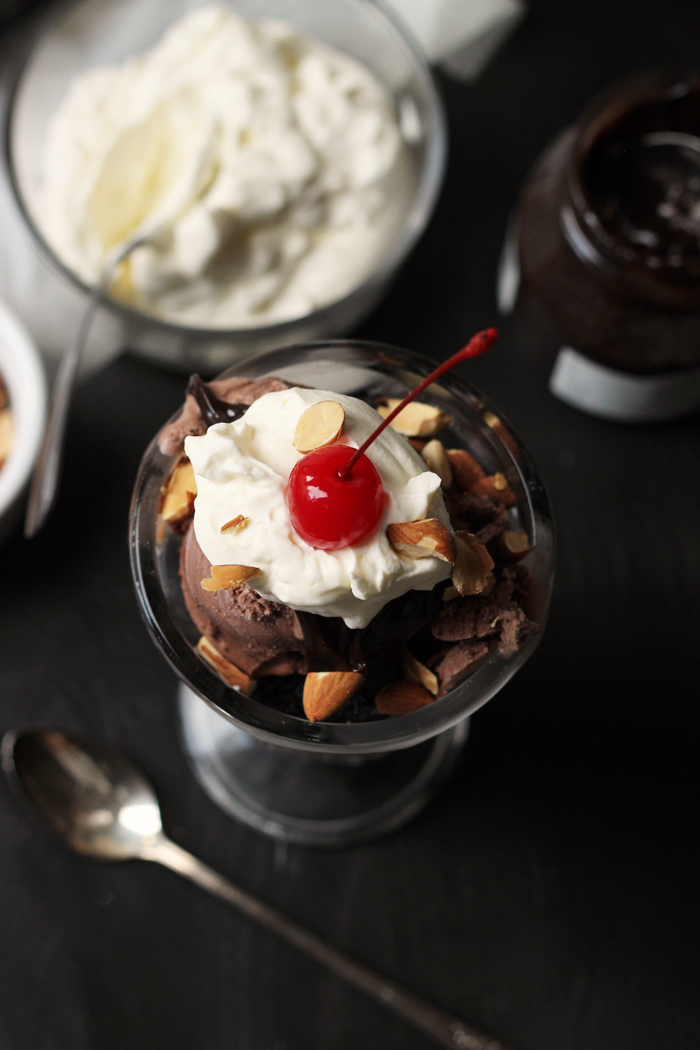 By now, you've probably heard about The Ultimate Homemaking Bundle. Some of you have bought it and are already relishing in all the good stuff. Others of you are on the fence, wondering if it's really worth your money.
I've given this a lot of thought. As I've told you before. I NEVER WANT YOU TO FEEL SOLD. I don't recommend the bundle lightly. I feel really confident about this year's Ultimate Homemaking Bundle. Like way.
Like I like it A WAY LOT, as we said in third grade.
Now, will you find that everything is the cat's meow? No, of course not. Do you eat all 31 flavors when you go to Baskin-Robbins? No, you don't. You have some favorites. That's how it is with this bundle.
Only you get as many scoops as you want for one price.
For a limited time only, of course.
Why I Think You Should Buy the Ultimate Homemaking Bundle (& Why Not)
I'm going to lay out the questions that folks have asked and my candid answers here:
What is The Ultimate Homemaking Bundle?
Each year The Ultimate Homemaking Bundle is a fresh curation from different authors and creatives around the web. I've contributed a few times in the past, but every time I contribute a different book.
The point is for the bundle to be fresh and new each time around. Since you probably won't be scarfing "all the flavors of ice cream", we want the selection to be fresh and varied so that there is plenty for you to enjoy.
I am super-duper impressed with this year's collection, so much so that I would say that it is extremely well curated. My friend Mandi is the head of selecting the items that go into this Bundlepalooza, and I'm continually impressed with her good judgement.
This year's edition of The Ultimate Homemaking Bundle includes 50 ebooks, 21 eCourses, 14 printables, 2 videos, 2 audios, 2 summits, and 1 membership site, resources that cover everything you need to make homemaking and mothering feel less stressful… quick & healthy recipes, homemaking printables, cleaning tips, sizzling date night ideas, parenting helps, and so much more.
I've discovered new writers and artists that I'd never heard of who I'm now quite smitten with. I've dug into resources that made me initially skeptical but turned out to be diamonds in the rough. I've been encouraged to dream big dreams and not let the mundane parts of life get in the way of LIVING IT.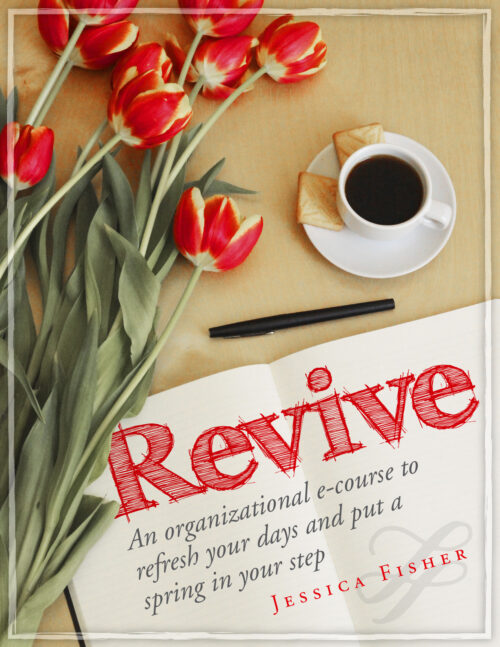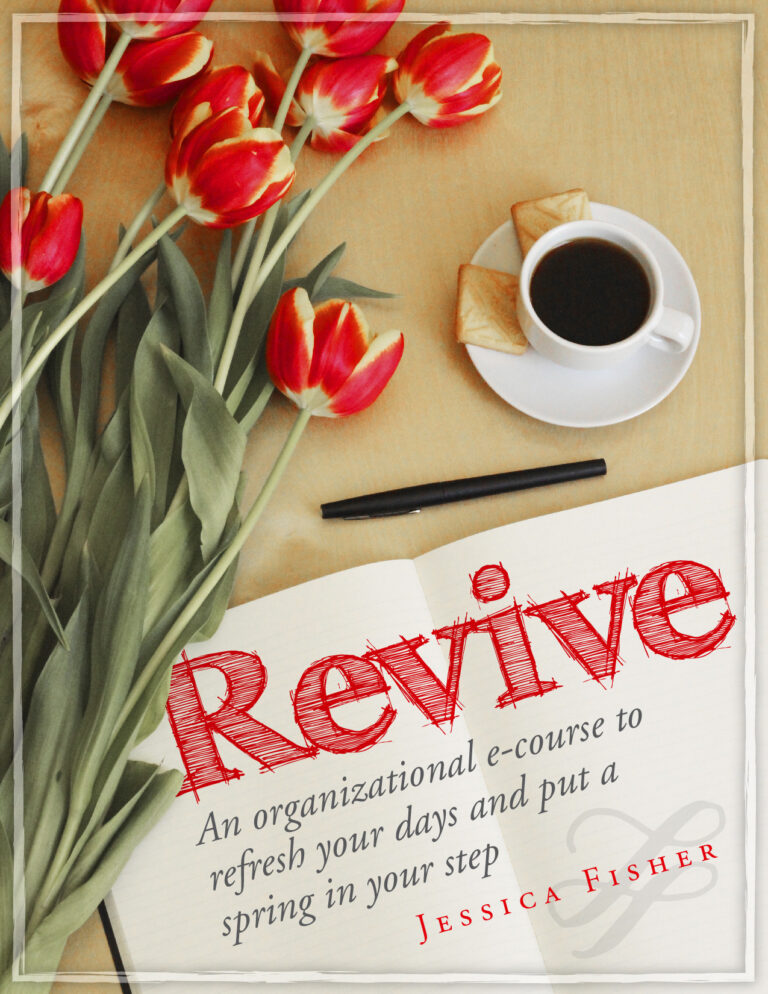 This year, my contribution is the Revive 30-Day Organizational Challenge. It includes 30 days of activities to help you get your head on straight. The course is run through the handy-dandy software over at my FishMama site. The course normally costs $27.
Here's how it works:
You log into your account and access the course. The software tracks your progress so you can go at your pace.
For 30 days you get an email from me, letting you know about the day's activity and inviting you to write to me if you've got questions or need help with an assignment. After the initial 30 days you'll get monthly reminders and additional ideas from me to help you REVIVE YOURSELF.
You'll also have access to a private Facebook group where you can ask questions, share challenges and successes, and attend weekly live Q&A sessions.
My goal is that REVIVE will refresh your days and put a spring in your step. What in the world do I mean by that? This:
Next question: Is the bundle really worth it? Be honest.
I ask myself this every year. I never EVER want to be the shill. Sure, I want to be compensated for the time and money I spend running this blog, but I never want to be the person who's selling you something.
Is the bundle worth it? Yes. Honestly, it is worth it. If you've read my posts here this past week, you know I've singled out certain items that I have reviewed and found valuable. Time and again, these items are more than worth the price of the bundle, sometimes with just one item!
As the veritable cherry on top of your triple scoop brownie sundae, when you buy the bundle through my link, I'll send you a coupon for a $10 credit in my estore.*
Boom. The price of admission has been covered!

Why should you buy the bundle?
I've purchased several bundles to give as gifts (just email customer service and they can transfer the login info to your giftee) because I love it so much.
It's an incredible deal on things that I know I will use and enjoy: cookbooks (for kids and adults), coloring pages, printables for organizing my home and business, ideas for managing work with kids about, PLUS artwork, planners, cleaning supplies, and craft kits!
If you are looking to be inspired in the kitchen, to get back on your game in home management, to be more focused about the important things in your life, or just get some tips on taking better care of yourself, then the bundle is for you.
You don't need to worry about being bogged down by a bazillion books. Many of the resources are presented via audio or video, so it works for a lot of lifestyles and learning styles.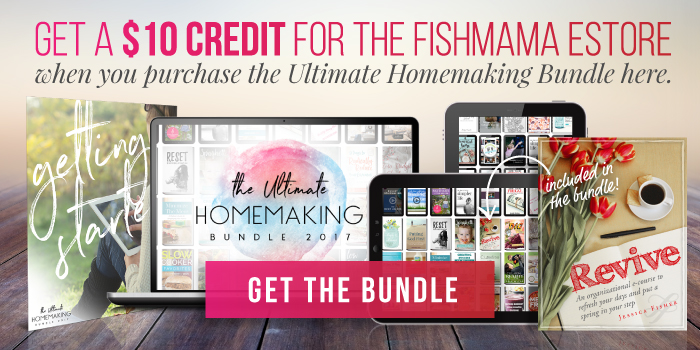 For less than the cost of dinner at In-n-Out Burger, you'll get a complete library to help you:
Cook up wholesome recipes for your family
Build stronger relationships with your kids (even your teens)
Discover speedy cleaning routines for the toughest messes
Rekindle the romance in your marriage
Put self-care back into your life
and so much more.
This bundle sale is only around for a few more days, so don't delay. Don't dilly dally. Don't tarry because you will be too late. If you buy the bundle you can always return it! I've told you my favorite online shopping is the one that includes free returns. And this bundle does that!
Why should you NOT buy the bundle?
That said, the bundle is not for everyone. You should not buy the bundle under these circumstances:
You do not have the money in the budget. It's not a deal if you can't afford it!
You don't have regular access to a computer or other digital device. You need to be able to use the resources to make it worth your while.
You don't really need to grow in any area, and you already have perfectly decorated walls.
You expect to love all 106 items and will be angry if even one disappoints.
Psst. There will probably be a few that don't live up to your expectations. Just like I think Bubble Gum Ice Cream is absolutely disgusting, there may be a resource that disappoints you. It's kinda how life works.
So, that's my story. I'm sticking to it. The bundle sale ends Monday night at 11:59 pm. See that countdown?

I would not dawdle if I were you. Get it while the getting's good.

As a contributing author, I receive a portion of the sale when you buy through my link. Thanks for supporting my writing and recipe development efforts!
* Just fill out this form once you've completed your purchase.