Welcome to Ultimate Recipe Swap. I'm your host, FishMama. This is a weekly roundup of great recipes. I hope that you'll find all sorts of great goodies to cook up this summer each Thursday.
In case you missed it earlier this week, here's the summer schedule of URS Themes.
June 10: Anything Goes
June 17: Birthday Cake RoundUp
June 24: Summer Recipes
July 1: Fourth of July Recipes
July 8: Be Cool
July 15: BBQ
July 22: Picnic
July 29: Grab and Go
August 5: Freezer Friendly
August 12: Crockpot
August 19: Fresh Produce
August 26: Camping
September 2: Cooking for a Crowd
I think between the lot of us, we'll have the summer covered for good eats and fun get-togethers with friends and family.
One favorite summer recipe of mine is Pesto Pizza with Feta and Tomatoes. Basil, tomatoes, garlic, and that salty bite of Feta? Oh yeah. I'm there.
I'm pretty much the only one in the house who eats it, but there's a good chance that I can win my girls over to such a froofy pizza. Ya think? But, for now, I'm happy to have it all. to. myself.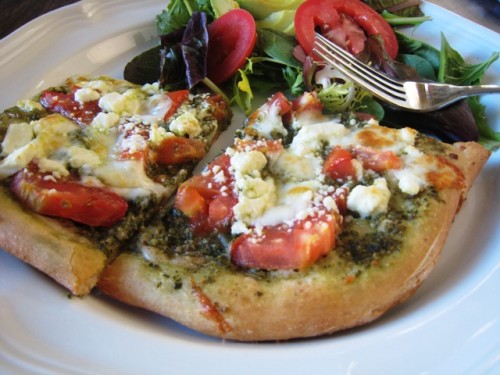 Love that Pizza Night
Every week we have pizza, usually on Fridays. Most of the FishFam prefers sauce, cheese, and some kind of meat. Until I get a really good deal on "healthy" pepperoni (if such a thing exists), I plan to top most of our summer pizzas with chicken or sausage. I usually make a Jalapeno Burn each week which FishPapa, FishBoy12 and I split. Then,  might make a cheese pizza or one of these babies that I eat all. by. myself.
Yes, yes, I do.
This recipe has its roots in my college days when I lived with a family from church. They introduced me to the wonders of Costco and Trader Joe's. Back then, Trader Joe's sold prebaked pizza rounds, like Boboli, but way better. (Like, they tasted good.) I don't know if they still sell them. This was considered a "TJ's meal" as all the ingredients could be purchased there. Back then, that was a big deal. Trader Joe's now offers a much wider selection of items. You can still do that or buy the ingredients elsewhere.
This pizza is just bursting with summer flavors. I just planted six basil plants and two tomatoes so I'm hopeful that my pesto will be homemade and my tomatoes homegrown this summer.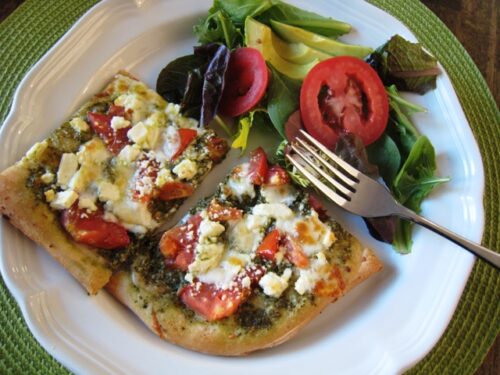 Pesto Pizza with Feta and Tomatoes
pizza dough for one pizza
1/2 cup basil pesto
1 roma tomato, chopped
1/2 cup mozzarella cheese
1/2 cup feta cheese crumbles
Preheat oven to 475°. Grease pizza pan and form dough to fit. (I use rectangle pans). Spread pesto over surface. Sprinkle on tomatoes and cheeses. Bake for 10 – 12 minutes until crust is crisp, cheese is melted, and toppings are hot.
What's a favorite recipe of yours?
Here's how to participate in Ultimate Recipe Swap:
1. Post your recipe on your blog. Please mention www.lifeasMOM.com in your post so that your readers know where all the other good recipes are hanging out. Then, come back here to add the link to your post to Mr. Linky below. (Find instructions for Mr. Linky here.) OR
2. If you don't have a blog, simply post your recipe or tell us about it in the comments section.
3. Above all, please stick to topic. Most weeks there is a theme, except this week. Anything goes!
Have a story to go along with your recipe? We'd love to hear it!