In my neck of the woods avocados have been on killer sales recently for as low as 3/$1. That's a stock-upportunity for sure. I don't know about the scientific evidence, but I consider avocados a superfood. Super-good! Love that smooth, buttery texture, especially when prepped with cilantro, jalapeno, and a little tomato. Yumbo!
FishPapa, however, is not crazy about guacamole. He's got some texture issues. And I love it if we can both be happy at mealtime. It's so much more fun that way. He loves avocado salsa. And this is so easy to make, well, it's not even funny. My two year old could probably make this. Except for the sharp knife part of the equation.
This salsa goes great as a dip, a topping for Mexican dishes like enchiladas or tostadas, and just eating plain. Yes, I have done would do that.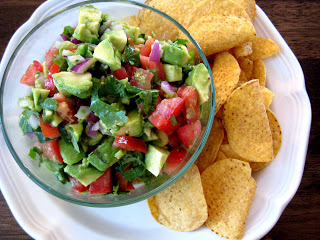 Avocado Salsa
3 avocados, halved, pitted, and chopped
1/4 cup chopped cilantro
1 tomato, chopped
1/4 cup diced, red onion
1 jalapeno, seeded and finely chopped
juice of one lime or 1/2 lemon
Combine all ingredients gently. Salt and pepper to taste. Serve with chips.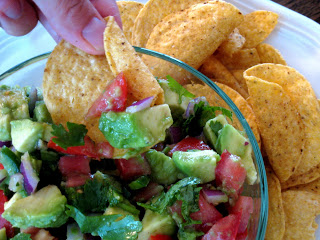 Got a great recipe you want to tell the world about? We want to know!
1. Post your recipe on your blog. Please mention www.LifeasMOM.com in your post. Then, come back here to add your link to Mr. Linky below. (Find instructions for Mr. Linky here.)
OR
2. If you don't have a blog, simply tell us about your recipe in the comments section.
Everyone who participates in today's URS (through comment or link) will be entered in a giveaway for a copy of Family Fun Birthday Cakes.
Next week: Breakfast is served! (Updated schedule is here.)