Apples are a year-round staple at our house. They are a quick-prep snack and easily portable. And, apples in Fall, fresh from a local tree, are the best.
Last year I bought 3 huge boxes of apples on killer sale and then processed them in different ways: Nanna's Apple Pie, Slab Apple Pie, Crockpot Applesauce, Chausson aux Pommes, and apple slices. This month I am really looking forward to heading to our old stomping grounds and buying boxes of See Canyon Apples.
Today's recipe, however, makes use of dried apples. It's what I had on hand when I went to bake something appley. The family really liked these muffins.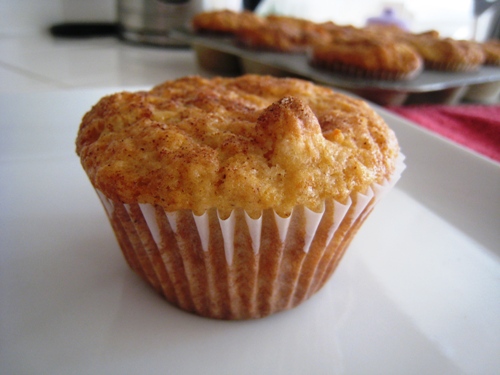 I took my Mix and Match Muffin Recipe and tweaked it for apples. LOVE a multipurpose recipe!

Recipe: Apple Cinnamon Muffins
Ingredients
3 cups unbleached flour
1/2 cup whole wheat flour
4 teaspoons baking powder
1/2 teaspoon baking soda
1/2 teaspoon salt
1 cup sugar, brown sugar, or sucanat
1/2 cup oil
1 cup milk
1/2 cup plain yogurt
2 eggs
1/2 teaspoon cinnamon
1/2 teaspoon orange zest
1 cup diced, dried apples
Cinnamon Sugar: 2 Tablespoons cinnamon mixed with 1/2 cup sugar
Instructions
Preheat oven to 350 °. Line (24) muffin tin with papers or spray with nonstick cooking spray. In large mixing bowl, combine, flours, baking powder, baking soda, salt, and sugar. (If preparing as a mix, simply combine all these ingredients in a ziptop bag, label well, mark with the wet ingredients and baking instructions.)
In a separate bowl, combine oil, milk, yogurt, and eggs. Whisk to blend. Add cinnamon, orange zest, and diced apples. Add wet ingredients to dry. Fold gently until mostly moistened, but still lumpy.
Fill each muffin cup with 1/4 cup batter. Sprinkle generously with cinnamon sugar. Bake 25 – 30 minutes or until tester comes out clean.

Curious about freezer cooking? Consider purchasing my cookbook, Not Your Mother's Make-Ahead and Freeze Cookbook from Amazon, Barnes and Noble, or your local bookstore. It's chock full with over 200 freezer-friendly recipes, planning pages, shopping lists, cooking plans, and basic and advanced how-to's to making freezer cooking work for any home, family, and lifestyle.
How about you? What do YOU do with them apples?
1. Post your recipe on your blog. Please mention www.LifeasMOM.com in your post. Then, come back here to add your link to Mr. Linky below. (Instructions for Mr. Linky are available.)
OR
2. If you don't have a blog, simply tell us about your recipe in the comments section.