Christmas is the time of year when you can take a day — or twelve — and throw a little caution to the wind. Celebration can be cause for a little "fun food," as we like to call it. There are so many wonderful recipes that are part of our family's traditions come Christmastime.
Christmas Tree Scones and Cinnamon Rolls take turns at Christmas Breakfast. Desserts may range from Jesus Cookies to (The Best in the Whole World) Streusel-Topped Pumpkin Pie to Pretzel Berry Dessert. If we're at my parents' house, Toffee Dream is the dessert to fight over. Holiday dinners often feature beef of some sort and Cheesy Potatoes.
Long ago we claimed Christmas Eve and Christmas Day as our own. With divorced parents on one side of the family, we felt that it was easier on our kids not to be chasing all over the state. So, we've enjoyed the luxury of this special time at home. The food prep can be as simple or as elaborate as I want it to be. This year we're going to feast!
Christmas Eve: Ham, Scalloped Potatoes, Green Beans, Cornbread, and a Buche de Noel for dessert.
Christmas Day/Dinner: Grilled Shrimp, Rice Pilaf, Green Salad, Cheesy Biscuits, and Pretzel Berry.
I am really looking forward to making the Buche de Noel. I've done this three or four years in the past. (But, alas, no good pictures.) FishPapa and I first had this on our first Christmas when he came to visit me in France. My French Mom (Salut, Michele!) prepared a veritable feast. I think there were ten courses on Christmas Eve alone. And then we did it all over again the next day.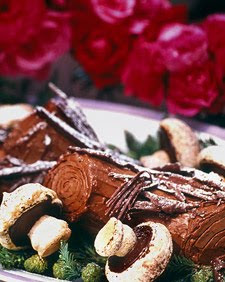 A Buche de Noel, or Yule Log Cake, is a Christmas tradition in France. It's simply a jelly roll decorated like a log. Can't wait to make one this year. I've got some visions of Playmobil dancing in my head. I'll be sure to report back….
What are your Christmas Food Traditions? Share them with us so that we can be inspired.
Normally, URS involves posting a recipe, but I realize that this is a super busy week. Feel free to post your recipe or link up a post that explains your food traditions. Or just leave a comment. Either way, pop in and say HI and tell us what you enjoy eating at Christmastime.
(And, there's an updated URS Schedule here.)